Same Day Music is an
authorized ART dealer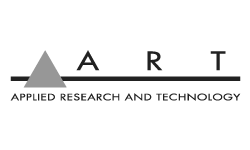 This member of the HQ Series, HQ 231, features ART's FDC Feedback Detection Circuitry. The ART proprietary FDC differs from similar systems in that it is extremely fast. Although it illuminates the band with the greatest energy with the brightest LED, it doesn't fully discriminate between bands and will not get "stuck" on one band when there is no signal.
The HQ 231 utilizes a set of indicators that show which of the many EQ bands has the greatest energy. The LED indicators can immediately show which band corresponds to the feedback frequency, allowing the sound engineer to reduce gain in that band to quickly kill the feedback while having a minimal impact on the sound of the live program material. The FDC also acts as a simple spectrum viewer while the concert proceeds showing where the 'hot' areas are. During system setup and sound check, the FDC may be used to help identify room and sound system resonances. By increasing the gain until feedback, it is easy to identify those frequencies that are likely to be problems. Reducing the gain in these bands helps tune the sound system, and, remove problem areas before the show begins. It also helps increase the gain margin before feedback.
The unit also features constant Q circuitry, 45mm center detent sliders with selectable boost or cut range of 6dB or 12dB, balanced XLR, 1/4-inch and unbalanced RCA input and output connections, high and low pass filters, analog level metering, variable input controls, signal clip level indicators, ground lift switch, internal power supply and selectable line voltage. The rugged, all-steel chassis occupies 2U rack spaces and is intended for installation into standard 19-inch equipment racks.
Applications for the HQ-231 include live sound systems/PA, permanent or fixed installations, church, club and practice PA systems, DJ sound systems, home and project recording systems, and monitor systems.
Features:
- FDC feedback detection circuit
- Dual channel 31-band graphic equalizer
- Output level VU metering on each channel
- Constant-Q filtering
- Individual high and low pass filters on each chanel
- Center-detented frequency band sliders
- Independent level and bypass controls on each channel
- Relay bypass -- if power is lost, signal will still pass
- Occupies 2 rack spaces
- Variable input controls
- Signal clip level indicators
- Ground lift switch
- Internal power supply
- Selectable line voltage
Same Day Music is an authorized dealer of
ART
products.
- Dimensions: 7.5" d x 19.0" w x 3.5" h
- Filter Type: Constant Q 3% center accuracy
- Frequency Bands: 2 x 31, 1/3 octave, ISO spacing
- Frequency Response: 20Hz 20kHz, +/- 0.5dB
- Output Noise: 94 dBm (unweighted)
- Input Impedance: 20K ohms typical
- Input/Output Connections: Active balanced XLR and 1/4" TRS, Unbalanced RCA
- Maximum Input Level: +22 dBm
- Maximum Output Level: +22 dBm
- Power (Switchable): 95-125 VAC, 50/60 Hz, 190-250 VAC, 50 Hz
- Range: +/-6dB or +/-12dB selectable
- Total Harmonic Distortion: .01% (20 Hz 20k Hz + 10 dBu )
- Weight: 12 lbs.
Same Day Music is an authorized dealer of
ART
products.