Same Day Music is an
authorized BLUE dealer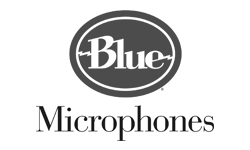 The Dragonfly from BLUE puts transformerless, Class A condenser tone right where you need it, thanks to the swiveling capsule. Response from 20Hz-20kHz captures all your tone with mellow warmth. Includes elastic shockmount and case.
In the 1960s, Mohammed Ali, then known as Cassius Clay, boasted he "floats like a butterfly, stings like bee." BLUE's knockout punch microphone, the Dragonfly, is best described by this famous statement. Complete with an integrated elastic shock mount, this class A discrete, transformerless microphone offers a rotating capsule grill that can be positioned in the most difficult of areas. Countless hours of research and development were spent to test and select the most suitable active and passive components. This no compromises process, can assure the low noise, high dynamic range and unappreciable distortion of the microphone circuitry. The end-result gives the Dragonfly complete sonic neutral electronics with low-output impedance and no side effects from the cable capacitance and load impedance. This way only the capsule determines the sound. The Dragonfly incorporates the BLUE handcrafted 1 in. active diameter capsule. For this diaphragm they have selected a 6 micron mylar film which has been sputtered with a special mixture of pure gold and aluminum. The capsule operating principle is a pressure gradient with the pickup pattern being cardioid. The Dragonfly is packaged in an attractive linen box.
Same Day Music is an authorized dealer of
BLUE
products.
Type of mic amplifier: Solid State Discrete class A
Type of Transducer: Pressure gradient
Directional Pattern: Cardioid
Frequency Response: 20 - 20,000 Hz
Rated source impedance: 50 ohms
Recommended load impedance: not less than 1000 ohms
Sensitivity: 20mV/Pa
Signal to noise ratio: 69db (related to 1 PA at 1khz) Max.
Sound Pressure Level for 0.5% THD: 132db
Power Requirements: 48-volt phantom (DIN 45596, IEC8 15)
Net weight: 640g
Dimensions: 235mm x 45mm
Connector: 3-pin XLR-type
Same Day Music is an authorized dealer of
BLUE
products.