Same Day Music is an
authorized BBE dealer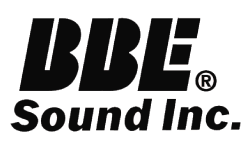 The BBE Blacksmith is deeply inspired by pedals hand-made by Paul Gagon in the '80s for the gods of rock. Back then, Gagon designed pickups and amps for Grover Jackson and worked with an A-list of artists, from Jeff Beck to Steve Vai and many more. He found that many artists loved the tone of their Marshalls but wanted more grind out of them. Though their amps may have gone "to 11," these guys told Paul they wanted them to go "to 15 or 20."
Gagon designed an innovative LED-based distortion circuit which fed a 3-band passive PLEX-EQ based on a classic Plexi tone stack, all adding up to a creamy smooth hi-gain experience that stays true to the tone. Gagon made dozens of these pedals for the A-list of clients and now you can experience of the greatest secret weapons in rock history.
Blacksmith recreates the experience of Gagon's early hand-made pedals but delivers even greater consistency and durability. Blacksmith features 1% metal-film resistors, high-voltage poly caps, big, fat signal traces on a mil-spec circuit board and a 1MEG Ohm input to welcome your axe's signal with wide-open arms--just like the input on a killer Marshall. And when you're not out to rip and shred one, true hardwire bypass eliminates any pickup loading so eleven sounds exactly as it should.
Same Day Music is an authorized dealer of
BBE
products.
Features:
- Gain, volume and passive
- 3-band PLEX-EQ controls
- LED-based gain circuit for
- smooth, high-output distortion
- 1MEG Ohms input impedance
- for proper pickup loading
- 1K Ohms output impedance
- when engaged
- 1% metal-film resistors for consistency
- High-voltage poly caps for better tone
- Military-spec circuit board for reliability
- Blue status LED for high visibility
- and low power consumption
- Easy access battery compartment
- True hardwire bypass
- 5-year warranty
Same Day Music is an authorized dealer of
BBE
products.