Same Day Music is an
authorized BBE dealer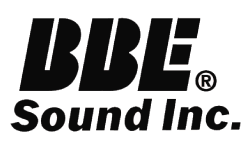 The BMAX is a high quality bass preamp/processor for the recording studio and on the stage. At the heart of the BMAX is a class A/B front-end, the input of which emulates the loading effect that the input of classic-design tube preamp would present to the bass pickups, and one of the key aspects in the warmth and punch of tube preamps. The BMAX also provides a pure and clean electronically-balanced DI output. From its 1/4 in. thick extruded front panel to thoughfully designed ergonomics to the red-abalone-topped knobs, the fit and finish of the BMAX exudes quality craftsmanship.
Features
The BMAX is perfect anywhere an extremely high-quality, pristine preamplifier is required for the bass guitar
In the recording studio where a bass amplifier is impractical due to space or loudness considerations
In performance applications, where players will find the BMAX ergonomics intuitive and easy to use
The BMAX EQ and Dynamic controls, combined with the patented Sonic Maximizer processor, afford a wide palette of tonal choices
Same Day Music is an authorized dealer of
BBE
products.
Specifications
Full Function 4th Generation BBE Sonic Maximizer processor
Solid-state, Class A/B front-end with interactive 3 band EQ and interactive "bright" switch
Electronically balanced DI output
Quasi-parametric mid-range EQ with 12db of boost or cut between 250 to 1000hz
Single-knob soft-knee optical compressor
Inputs for both passive pickup and active pickup instruments
1meg ohm input impedance
Ground lift switch
Balanced XLR and 1/4 in. TRS Outputs
Military-spec circuit boards
Extra thick, extra wide circuit board traces for unequaled electron flow
1% metal film resistors throughout
Solid 1/4 in. thick aluminum extrusion front panel for extreme ruggedness
Made with pride in the USA
5 year warranty
Same Day Music is an authorized dealer of
BBE
products.