Same Day Music is an
authorized Big Bends dealer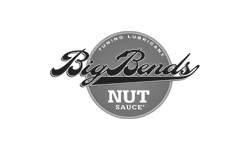 Bench Luber is the long awaited giant Nut Sauce applicator. Requested by professional guitar and drum Techs, skate boarders, fisherman and hunters, it's even been purchased for door hinges and RC cars. Each unit comes with 3 size microbrushes: small, very small and ultra small. Includes 1 sticker and 6 cc of Nut Sauce and yep it comes in a resealable zip bag.
Safe non toxic, non corrosive, stays where you put it, stable at high temps and low, Nut Sauce is so stable that it can be applied directly to the string before placing into string guide. When used on Bow Cams and Fishing Reel Gears it will stay in place.
The Bench Luber is the most economical way to purchase Nut Sauce as 1 Bench Luber equals 12 Lil Lubers.
Big Bends Nut Sauce is the Extreme Tuning Lubricant! Your guitar will remain in tune no matter how hard you bend your strings or yank your whammy bar. With the sauce, you won't have to tune between every song - they guarantee it! Nut Sauce will stop string breakage when applied to bridge or saddles. Nut Sauce stays where you put it; it won't drip or run on the fretboard or headstock. Once you try the sauce, you'll never play without it.
Nut Sauce Regular is the favorite of electric guitar players. It contains graphite and synthetic lubricants. It is completely safe for both you and your instrument. It contains no petroleum products or wax.
Your sauce comes ready to use in the Groove-Luber applicator.
How It Works
- Stop the string drag or friction at the nut and string guides.
- Reduce string breakage at the bridge and saddles by reducing friction and wear from the see-saw action of hard playing, especially with a thick pick.
String Breakage
The main cause of string breakage can be summed up in one word - "friction". Most players who break strings seem to have a couple things in common, they use "heavy picks" - whether it's a standard pick, thumb pick or finger pick. They also play hard no matter their style. Playing hard with a heavy pick tends to create a "see-saw" like action that tends to file the string at the point of contact of the bridge or saddles. If the strings go thru the body, there will often be a sharp edge that the string will ride on. This is a perfect place for the string to break. Friction is the cause of the breakage, created by the "see-saw" action that most often a thick pick creates.
Reducing Friction:
- Smooth any rough surfaces. You can use a dremel tool to reduce the edge that the string rides over when the string exits the body and before it goes to the saddle (like an S.R.V. strat). For the saddles, I use 400 grit sandpaper. Then I use ultra fine polishing compound with a damp Q-tip. Keep in mind, that any sanding or polishing will damage gold or other plating. I recommend having a professional guitar tech do any modifications.
- Running your string thru wire insulation where it travels thru the body, will stop the breakage that is caused by the sharp edges inside the guitar. Make sure you trim the insulation before it touches the saddles. For those players who don't have access to wire insulation, check out my "string sleeves" they are made of pvc plastic and are very durable, yet will not change the sound of your guitar.
A best way to reduce the friction at the saddles is to apply nut sauce to the string-bearing surface of each saddle. Remember, the same see-saw action that creates the breakage is also like a windshield wiper, in that as the string moves back and forth, it will push the sauce to the side. So ever so often, use the micro-brush to clean off the old sauce and apply sauce (before each gig).
Same Day Music is an authorized dealer of
Big Bends
products.