Same Day Music is an
authorized Blackstar Amplification dealer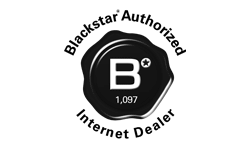 To celebrate Blackstar's 5th anniversary they are launching a special, limited edition HT-5 2x10 combo. Based on the award winning HT-5R, the HT-5TH has the same patented features but with a unique cosmetic-cream covering, anniversary weave fret cloth and limited edition front panel. Each unit will also come with a unique certificate. This is limited world-wide production run.
Innovative Combo Amp
The Blackstar HT-5TH is the ultimate studio and practice amp, packing all the great tone and innovative features of the award-winning HT valve pedals into a two channel, footswitchable valve amp format.
Cosmetics
Unique cosmetics really make the limited edition HT-5TH stand out. With cream covering, anniversary weave fret cloth and a limited edition front panel, this 5th anniversary amplifier is exclusive limited production of just 2500 pieces worldwide.
ISF Control
The patented ISF control works with the Bass, Middle and Treble controls to give you access to infinite sound possibilities from the USA to the UK and everywhere in-between. This fully interactive control allows you to infinitely adjust the response of the tone control network between any of the traditional voicings. In this way you can design your own sound and truly find the sound in your head.
Two Footswitchable Channels
The Blackstar HT-5TH has two channels available for selection, a Clean channel and an Overdrive channel. Using the Gain control while on the Clean channel you are able to deliver everything from a clean sound through to a crunch tone. Alternatively you can select the Overdrive channel and again using the Gain control, change from a clean sound on the edge of breakup right through to a distorted lead tone.
External Speaker Output
The external speaker output on the HT-5TH allows you to connect further extension cabinets. The output marked 1x16 Ohm is for the connection of a single 16 Ohm extension speaker cabinet (or the internal loudspeaker of the HT-5 combo). The outputs marked 1x8 Ohm or 2x16 Ohm are for the connection of either a single 8 Ohm extension cabinet or two 16 Ohm cabinets. Also, the internal loudspeaker of the HT-5 combo can be plugged in here if it is used with a 16 Ohm extension cabinet
Reverb Control
The Blackstar HT-5TH's Reverb control sets the overall level of the reverb effect. With the control fully counter clockwise there will be no reverb. Turning the control clockwise will increase the amount of reverb.
Features:
- Innovative 5 Watt valve combo
- 1xECC83 and 1x12BH7 valves
- Unique push pull power amp design
- Award winning HT Pedal preamp
- Two footswitchable channels
- 2x 10" Celestion speakers
- Enhanced tone controls
- Patented Infinite Shape Feature (ISF)
- Fully equipped for studio or practice
- Digital Stereo Reverb
- Speaker emulated output with 1x12 or 4x12 voicing
- Effects loop with effects level switch
- Footswitch included
- Cool vintage styling
Same Day Music is an authorized dealer of
Blackstar Amplification
products.