Same Day Music is an
authorized Blizzard Lighting dealer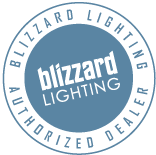 The Blizzard Puck3 Unplugged features all of the same great features as the Puck 3NX with the addition of an internal rechargeable, field-replaceable lithium-ion battery system.
Redesigned from the ground up to be brighter, lighter, stronger and smarter than the original Puck3, the Puck3 Unplugged builds on the originals runaway success and adds more of everything that made the Puck3 so popular. With about 10-percent more output thanks to optimized electronics and optics, quieter fans, and extra protection for the fixtures nine three-watt Edison Edixeon Tri-Color LEDs, the Puck3 Unplugged offers a ton of features. Plus, it retains the DMX layout of the original Puck3 as well as its input/output setup for easy interoperability.
And, take full advantage of Blizzards wiCICLE wireless DMX system without the need for external power thanks to the wiCICLE enabled DMX jacks. An innovative design provides power to the system directly from the fixtures DMX jack, meaning even fewer cords and less setup time.
An LED control panel and power daisy chain connectors make it flexible and perfect for uplighting, concerts, truss warming and virtually anywhere you need lots of color at an affordable price.
The Puck3 Unplugged features three- and six-channel control modes which means it works great with any type of controller, including popular three-channel easy controllers. Plus, the built-in four character/four button LED control panel allows total control over the fixture, including sound active and standalone modes, display invert and service hour readout.
Once you compare it to other fixtures on the market, you'll realize that now more than ever there is no comparison.
Control Features:
- Superior color mixing via nine three-watt TRI-Color LEDs
- Variable electronic strobe
- Variable electronic dimmer
- Built-in automated programs via DMX and master/slave
- Built-in sound active programs
- Full color mixing in standalone and master/slave
- RGB Dimming (3-Channel) and extended (6-Channel) DMX modes
Additional Features:
- Ultra Long-life intelion Lithium-Ion Battery System
- Durable acrylic lens protector for added LED protection
- 4-Button LED control panel for easy programming
- Light source: 9 x 3-watt TRI-Color Edison Edixeon LEDs
- Dual bracket for flexibility in mounting
- Power outlet for fixture linking (MAX 3A @ 120VAC)
- Ultra-quiet fan for cool operation all night long
- wiCICLE Enabled functionality allows plug-and-play operation with the wiCICLE Brand Wireless DMX system
Same Day Music is an authorized dealer of
Blizzard Lighting
products.
Weight & Dimensions:
- Length 8.50-inches (215 mm)
- Width 5-inches (126.5 mm)
- Height 8.25-inches (210 mm)
- Weight 6.9 lbs. (1.9 kg)
Power:
- Operating Voltage 90-230VAC, 50-60 Hertz
- Fuse 2A 250V
- Power Consumption 35W
Light Source:
- LED 9 x 3-watt TRI-Color LED's 60K hrs.
Optical:
- Beam Angle 25-degrees
- 29-degree field
- Luminous Intensity 7,160 Lux @ 1m (Full White)
- Red 1,550 Lux @ 1m
- Green 2,250 Lux @ 1m
- Blue 2,930 Lux @ 1m
Thermal:
- Max. Operating Temp. 104 degrees F (40 degrees C) ambient
Control:
- Protocol USITT DMX-512
- DMX Channels 3 or 6 (User Selectable)
- Input 3-pin XLR Male
- Output 3-pin XLR Female
Other Operating Modes:
- Standalone, Master/Slave, Sound Active, Color Preset, Standalone color mixing
Battery:
- Type/Rating: Intelion(TM) Field-replacable Lithium-Ion, 22.2V 6300mAh
Warranty:
- Fixture: 2-year limited warranty.
- Battery: 1-year limited warranty covering failure only.
Same Day Music is an authorized dealer of
Blizzard Lighting
products.