Same Day Music is an
authorized BLUE dealer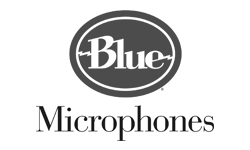 The Blue Yeticaster Studio is the ultimate professional recording studio setup for your desktop. Featuring Yeti, the world's #1 USB microphone, Radius III shockmount, Compass premium desktop boom arm, and software from PreSonus and iZotope, Yeticaster Studio delivers everything you need for professional recording, broadcasting and streaming. With stunning sound quality, professional features and sophisticated on-camera looks, Yeticaster Studio instantly transforms your desktop into a state-of-the-art studio.
YETI USB MICROPHONE
Record and stream with unparalleled sound quality direct to your computer with Blue's Yeti USB microphone. Yeti uses Blue's proprietary tri-capsule technology to produce pristine, studio-quality recordings and streams. Featuring four different pattern settings, Yeti is the #1 USB mic for music music recording, podcasting, voice-overs for YouTube, Skype calls and more. With simple controls for headphone volume, pattern selection, instant mute, and microphone gain, you'll be recording and broadcasting right out of the box.
COMPASS PREMIUM BROADCAST BOOM ARM
Compass is a premium microphone boom arm with internal springs and built-in cable management, ideal for recording music and broadcast applications. Designed for Yeti, Compass features smooth, quiet operation and sophisticated on-camera looks. And, No need to fiddle with a mic stand--Compass desktop boom arm puts your mic where you need it, fast. You can get up close and personal when recording podcasts, or re-position to record instruments like acoustic guitar. Then, rotate Compass into camera-ready position for shooting YouTube videos.
RADIUS III CUSTOM SHOCKMOUNT FOR YETI
Radius III is a vintage-style suspension mount designed to isolate Yeti and Yeti Pro USB microphones from noise, shock and ambient vibration. Radius III features a new streamlined, lighter weight design, perfect for on-camera streaming. Custom designed for the Yeti, Radius III takes your recording and streaming productions to the next level.
RECORDING AND MASTERING SOFTWARE INSIDE
You don't need to be a famous producer to create studio-quality recordings. Yeticaster Studio includes PreSonus Studio One Artist Blue Microphones Edition recording software, giving you professional tools and intuitive workflows to help you start recording fast -- just hit record and go. And, custom templates tuned for Yeti get you recording quickly with dialed-in processing for vocals, music, podcasts, voice-over projects or audio for YouTube videos.
MASTER YOUR TRACKS WITH IZOTOPE OZONE ELEMENTS
Featuring professionally designed presets and simple macro controls to shape your sound, iZotope Ozone Elements makes it easy to create a full, rich, and loud final master. Use the intuitive controls and sophisticated audio processing tools to quickly get your mixes ready for radio and streaming.
BRING YOUR TALENT TO THE WORLD
Today's musicians do more than record and perform music--MUCH more. From posting cover videos on YouTube, to podcasting about their bands and uploading remixes on Soundcloud, musicians are bringing their talents to the world in more ways than ever. Yeticaster Studio is your secret weapon to bring your talent to the world. Fast and easy to set up, Yeticaster Studio will delight your audience with stunning sound quality.
Features:
- Yeti, the world's #1 USB mic for recording, podcasting & voice over
- Multiple pattern selection - cardioid, bidirectional, omnidirectional & stereo
- Mic gain control, mute button, zero-latency headphone monitoring
- Plug 'n play - Mac and PC compatible
- Compass, premium broadcast boom arm with hidden channel cable management
- Radius III custom shockmount isolates Yeti from noise, shock & vibrations
- PreSonus Studio One Artist Blue Microphones Edition for easy recording
- iZotope Ozone Elements advanced mastering software
Same Day Music is an authorized dealer of
BLUE
products.