Same Day Music is an
authorized Bose dealer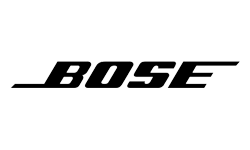 A complete PA System that fits in the trunk of your car, the L1(r) Model II Double Bass is recommended for DJs and lower-range instruments and voices. Also great for use as a bass guitar amplifier and for kick drums, this sleek system takes just a few minutes to set up.
The L1 Model II Double Bass System provides wide coverage and smooth tonal balance. And it's packed with proprietary Bose(R) technologies designed to improve your amplified sound. Like the original, award-winning Bose L1 system, the Model II sound system is an all-in-one innovation that replaces conventional monitors, mixers and PA speakers.
Features
- Spatial Dispersion(TM) and Articulated Array(R) speaker technologies
- Single-input power stand with retractable legs
- Two B1 bass modules
- Integrated power amplifiers in the power stand
Sound advantages--only from Bose
The system's breakthrough loudspeaker produces wide, uniform sound coverage of nearly 180 degrees--onstage and throughout an audience of up to several hundred--with little dropoff in volume and tone.
The Model II system also features Articulated Array speaker technology for better tonal balance. The loudspeaker's 24 vertically mounted drivers are precisely angled to create clearer highs and more consistent tone in the room. Even people off to the sides of these stage speakers enjoy well-balanced, detailed sound.
Deep bass from small enclosures
This Bose L1 Model II system comes with two B1 bass module to ensure more accurate amplification of lower notes. Highly efficient speaker design features two 5.25 inch (13.3 cm), high-output, high-excursion drivers that produce deep, strong bass from a small enclosure. When connected to power stand, active equalization circuitry automatically adjusts bass signal appropriately. (The single bass package is recommended for use for most instruments and vocalists.)
B1 bass modules are considerably lighter and smaller than conventional bass bins required for the same performance. Power up to two bass modules on a single power stand. (Add two more bass modules to the system with an optional PackLite(R) extended bass package.)
Light and easy
The L1 Model II power stand weighs only 24 pounds, and its four retractable legs make it very easy to transport and set up. The power stand also has a simplified control section; the single line-level input can be used with instruments, mics, mixers, laptops, MP3 players or DVD systems.
All of the system's components are also built to handle the road. The loudspeaker has a rugged, reinforced grille, and each package includes padded carrying bags for major components.
What's in the Box?
- L1 Model II Power Stand and Cord
- Power Stand Carrying Bag
- L1 Model II Cylindrical Radiator(R) Loudspeaker (top and bottom)
- Loudspeaker Carrying Bags
- 2 B1 Bass Modules and Cables
- 2 Bass Module Slip Covers
Same Day Music is an authorized dealer of
Bose
products.
Dimensions and Weight:
L1 Model II Cylindrical Radiator loudspeaker top:
- 43.5 x 3.5 x 4 inches (HxWxD) (110.5 x 9 x 10.5 cm)
- 16.3 pounds (7.4 kg)
L1 Model II Cylindrical Radiator loudspeaker bottom:
- 43.5 x 3.5 x 4 inches (HxWxD) (110.5 x 9 x 10.5 cm)
- 17.4 pounds (7.9 kg)
L1 Model II power stand:
- 5 x 10 x 27 inches (HxWxD) (12.8 x 26.2 x 69.2 cm)
- 23.7 pounds (10.7 kg)
B1 bass module (two included):
- 15 x 10.25 x 17.75 inches (HxWxD) (38 x 26 x 45 cm)
- 25.1 pounds (11.4 kg)
Same Day Music is an authorized dealer of
Bose
products.