Same Day Music is an
authorized Bose dealer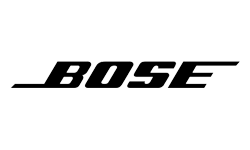 The Bose(r) MIE2 mobile headset is designed to improve both the audio quality and convenience you experience from your mobile phone. You can take calls at the touch of a button. Switch seamlessly between calls and music. And enjoy them both in Bose quality sound.
Features
- Take calls with one-touch ease
- Enjoy music and calls with high quality audio
- StayHear(TM) tips provide greater stability during exercise and other activities
- Engineered and tested for lasting quality
- Protective carrying case included
Better listening and Intelligibility
The Bose MIE2 mobile headset sets the standard for audio reproduction that conventional mobile headsets can't match. Re-engineered from the inside out, it features an enhanced acoustic design for smoother, more lifelike-sounding music. A port design works with proprietary TriPort(R) acoustic headphone structure for more natural lows. Your calls will sound clearer, too, with the added benefit of hearing them in "stereo" instead of through a single earpiece.
One-touch switching. Hands-free talking.
When your phone rings, just push the answer/end button to pause your music and take the call. The omnidirectional mic picks up your voice clearlyno need to hold it to your lips. End the call with one more touch, and your music continues from where you left off.
Designed to stay put while you're on the run
Proprietary StayHear(r) silicone tips offer greater in-ear stability during walking, exercise and other active sports. Advanced materials and design allow the tips to nestle inside the bowl of the ear while naturally conforming to the ear's upper ridge. The tips come in three sizes to fit listeners comfortably for hours on end.
StayHear tips also rest more securely on the headset itself. Overall, they provide a more reliable on-the-go experience for taking calls and listening to music.
More durability
MIE2 headphones are sturdier than ever, thanks to advanced materials, construction and manufacturing techniques--all adding up to more lasting quality for you. Each pair undergoes rigorous testing to meet Bose standards for performance and durability.
Works with most popular phones
The Bose MIE2 headset is compatible with iPhone(r), Droid, Blackberry and most popular phones Also included: Original-style tips in three sizes, and a convenient case for headset storage and protection.
Same Day Music is an authorized dealer of
Bose
products.