Same Day Music is an
authorized Boss dealer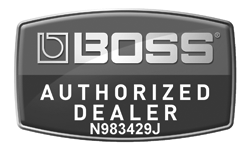 Even with the best-selling delays in compact-pedal history, Boss continues to push the envelope and innovate. The DD7 takes the best features from its predecessors and expands the creative potential with Modulation Delay mode, classic modeled Analog Delay mode, External pedal control options, longer delay time, and more.
Expanded Delay Time
Up to 6.4 seconds of delay time is available with the DD7, a marked increase from its predecessor. In addition, Hold mode allows up to 40 seconds of input to be recorded for creating "sound on sound" performances.
Delay Modes
The DD7 is equipped with two innovative delay modes. Modulation Delay provides chorus-flavored sounds. Analog Delay offers a modeled simulation of the classic BOSS DM2, beloved for its characteristic warmth.
External Control
For hands-free control of the DD7, an external footswitch and Expression pedal (sold separately) can be used. Tap tempo can be controlled from an external footswitch, while delay time, feedback, and effect level can be changed on the fly via Expression pedal.
Stereo Output
Create amazing effects with the DD7's stereo output, such as spatial audio sweeps via true stereo panning. You can also use the stereo outputs to create separate dry and wet signal paths - handy for recording and live-performance control.
Same Day Music is an authorized dealer of
Boss
products.
Controls:
- E.LEVEL, F.BACK, D.TIME, MODE
- Pedal switch
Indicator: CHECK (Used for indication of TEMPO, HOLD, and to check battery)
Connectors:
- INPUT-A (MONO) jack, INPUT-B jack
- OUTPUT-A (MONO) jack, OUTPUT-B jack
- TEMPO/EXP jack
- AC adaptor jack (DC 9 V)
Delay Time:
- 1 ms to 6400 ms*
- Maximum recording time: 40 sec (in Hold mode)
- *Values may vary according to the mode and connections.
- Nominal Input Level: -20 dBu
- Input Impedance: 1 M ohm
- Nominal Output Level: -20 dBu
- Output Impedance: 1 k ohm
- Recommended Load Impedance: 10 ohms or greater
Power Supply:
- DC 9 V: Dry battery, 9 V type (6F22/carbon, 6LR61/alkaline)
- AC Adaptor (PSA-series: optional not included)
- DC 9 V: Dry battery 6F22 (9 V) type (carbon)/
- Dry battery 6LR61 (9 V) type (alkaline),
- AC Adaptor (PSA-series: optional)
Current Draw: 55 mA (DC 9 V)
* Expected battery life under continuous use: Carbon: 1.5 hours, Alkaline: 6 hours. These figures will vary depending on the actual conditions of use.
Accessories: Owner's Manual, Mode Sticker, Application Sticker, Leaflets ("USING THE UNIT SAFELY," "IMPORTANT NOTES," and "Information"), Dry battery (9 V type, 6LR61) *1
Options: AC adaptor (PSA-series), Footswitch: FS-5U, Expression pedal: Roland EV-5
Same Day Music is an authorized dealer of
Boss
products.
Shipping Weights and Dimensions

Base Item

Shipping Weight: 1 lbs
Shipping Dimensions: 6 x 4 x 3 in

with Boss BC-30 Case

Shipping Weight: 4 lbs