Same Day Music is an
authorized Boss dealer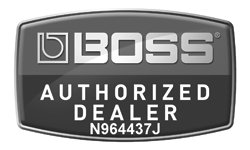 Inject a shot of high-octane fuel into your music with the Boss SL20 Slicer. Instantly transform a guitar, bass, keyboard, or vocal into a pulsating groove instrument. Choose from 50 onboard Slice patterns or experiment with the SL20's innovative Harmonic Slicer feature, which generates percussive melodies, Loop Record, and unique 3D Panning.
Features
Instant groove and percussive-melody generator
50 Slice patterns onboard, with adjustable attack and duration, including Harmonic Slice
Tap Tempo via onboard pedal switch; internal and MIDI sync
Sound characteristics such as attack, duration, effect level, and direct level are controllable via external Expression pedal (sold separately)
Variety of output modes, including the unique 3D Panning for spacious sliced FX
Groove and Melody Maker
The SL20 transforms your music into percussive "chopped" grooves. Fifty rhythmic patterns are onboard, with adjustable note attack and duration, plus amazing Harmonic Slice effects. Create high-energy patterns onstage in real-time, or use the SL20 as a songwriting and recording tool. Play the sliced sounds in realtime while capturing them with Loop Record.
Flexible Control
An internal tap-tempo feature is included, as well as the ability to sync to external MIDI clock. Sound characteristics of the SL20 such as attack, duration, effect level, and direct level can be controlled by the onboard knobs or from an external Expression pedal.
Universal FX
The SL20 is an addictive effect that inspires creativity. It's great for guitarists, but it's equally useful for other instrumentalists as well. Plug in a bass, keyboard, iPod(R), or any other instrument or music-playback device. DJs and dance-music artists will also love the SL20 as a rhythmic-performance tool.
Same Day Music is an authorized dealer of
Boss
products.
Nominal Input Level: -20 dBu
Input Impedance: 1 Mohm
Nominal Output Level: -20 dBu
Output Impedance: 1 kohm
Recommended Load Impedance: 10 kohms or greater
Tempo: Quarter note 30 to 250 bpm
Maximum recording time: 40 sec.
Controls: START/STOP, REC, PLAY pedal, TAP pedal, EFFECT LEVEL knob, DIRECT LEVEL knob, BANK knob, PATTERN knob, ATTACK knob, DUTY knob, TEMPO knob, OUTPUT MODE button, PEDAL MODE button
Indicator: MONO, FIXED, RANDOM, PING-PONG, AUTO, 3D PANNNER, 3D CROSS, LATCH, MOMENTARY, TEMPO, START/STOP, REC, PLAY, TAP, POWER
Connectors: INPUT jacks R/MONO, L (1/4 inch phone type), OUTPUT jacks R/MONO, L (1/4 inch phone type), EXP PEDAL jack (1/4 inch TRS phone type), MIDI IN connector, AC adaptor jack
Power Supply: DC 9 V, Dry battery LR6/R6 (AA) type x 6/AC Adaptor (PSA-series: optional) *1
Current Draw: 110 mA
Accessories: Owner's Manual, Leaflets ("USING THE UNIT SAFELY," "IMPORTANT NOTES," and "Information"), Dry battery (R6 (AA) type (carbon) x 6) *2
Options: AC adaptor (PSA-series), Expression pedal (Roland EV-5, FV500L)
Same Day Music is an authorized dealer of
Boss
products.