Same Day Music is an
authorized JamHub dealer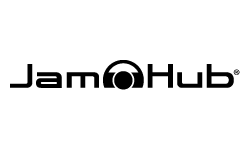 Who would have ever thought that silent rehearsal studio would be so compact and easy to use. Grab up to 6 friends (7 including you) and get ready to rock all day and all night. JamHub TourBus silent rehearsal studio enables musicians of all skills and styles to rehearse or jam more often and for longer durations, day or night and even record straight onto a removable SD card. Musicians can hear their music as loud as they want, yet the band remains quiet enough for a bedroom, dorm room or apartment. Using the SoleMix controls on their section of the JamHub, each musician creates a unique mix for their headphones so they can hear clearly. Volume Wars are dead and gone. Jam anywhere, anytime and get better faster.
Features
- 21 audio channels for up to 7 musicians
- 7 individual sections each with a unique mix
- The R section is designed for recording or for connecting an MP3 player (or both)
- SoleMix controls in each section, Each member creates their own mix
- Two SoleMix remotes with 12 foot cable included (accommodates up to 4 remotes)
- Stage control gives each player a virtual location in the studio
- Built-in recording to SD RAM card (included)
- USB jack for direct recording to a computer
- 1-R switch for quickly monitoring the recording mix from section 1
- Built in 24-bit, stereo effects including reverbs, delays and modulation effects
- Phantom power (+48V)
- Metronome built into recording system
The importance of improving rehearsal
Scientific research clearly shows that the way you practices impacts skills development more than the frequency of your practices. Better practice makes you better, faster. JamHub allows for great sounding rehearsals where each musician hears just what they need to hear to improve faster. Practice doesn't make perfect, perfect practice makes perfect.
Input Trims
These dual shaft potentiometers allow you to set the trim level for both the mic input and the instrument input for a section. A single LED per section tells you if the gain is set properly ... green means good, yellow means getting close to clipping, red means clipping.
Stage
The stage control allows musicians to spread out sonically in the JamHub silent rehearsal studio. By spreading instruments and voices out sonically, left to right, it enables the hearing system to work as it's designed to work, with sounds in their own, unique spatial location. This results in greater perceived clarity and detail. A band wouldn't all stand in the same place on stage, right? So use the stage control to spread out in the JamHub studio.
SoleMix controls: The SoleMix controls are labeled 1 through 6 with the 7th section labeled R for Rear or Recording. Every section of the JamHub studio has its own SoleMix controls which enable each headphone output jack to have a perfectly unique mix.
There are two additional SoleMix controls, the FX and headphone volume controls. The FX control allows each user to decide how much of the internal effects engine they would like to hear in their output mix, and the headphone volume control determines how loud a musician hears the mix they have created.
Outputs
7 stereo headphone outputs, 2 wired SoleMix remotes, 2 additional SoleMix remote output jacks (4 jacks total, 2 remotes included in the box), USB type B (cable not included)
SoleMix Remotes
Every remote allows you to create a mix just for you at a distance from the main unit. Designed for drummers or keyboard players, who are stuck behind their gear, to make mix and output level changes during the jam. The JamHub TourBus model comes with two remotes in the box. The JamHub TourBus model has 4 remote connectors allowing for a maximum of 11 unique mixes.
1-R Switch
The 1-R switch is designed to help make recording easier and better. The switch changes the audio output of the section 1 headphone jack, from the section 1 audio mix, to the R section audio mix. This allows the person who's headphones are connected to section 1 to quickly switch to the R section to hear the mix being recorded, then switch back to section 1 to play along with the band hearing their own players mix.
Built in effects: The internal stereo, 24-bit effects engine gives you the ability to select one of 16 different global effects type, but each SoleMix section has an effects (FX) return control so that each musician can decide how much of the effects engine they want to hear. There are plenty of useful effect types, small rooms, large halls, delays, chorus, etc., and there's even a reverse reverb thrown in for fun.
Recording (three types)
Record a stereo mix with the built in recording device. The R section SoleMix controls can be setup for a recording mix and that mix can be captured and written to a Secure Digital RAM card for simple transfer to a computer. A 4GB card is included, which holds over 6 hours of uncompressed audio. A sample depth and rate of 16-bit, 44.1kHz, gives CD quality recording, and the files are in a .WAV format so that it works with nearly all computer and software types. Good quality rehearsal recordings made simple.
The recorder also has a built in metronome. When you turn on the metronome it plays to the section R audio channels so everyone can add as much, or as little, of the metronome as they would like with their SoleMix controls.
Another option would be to use the USB output jack, connect the JamHub TourBus directly to a computer to simplify recording those long jams. Never miss a minute of inspiration.
You can also incorporate your favorite portable recorder using the headphone output on the R section. Record to your favorite device in pure analog, just connect to an MP3 player or a portable digital recorder with a TRS cable and capture that song for everyone to hear tomorrow at school.
Phantom Power
The TourBus model provides +48V of DC power to the mic inputs to power you favorite condenser mics.
Global Power Supply (Included)
The power supply is designed to work around the world. Simply change the cord as necessary and the power supply works: 50Hz~60Hz, 110V to 240V, it's got you covered no matter where your tour takes you.
What's in the box:
- JamHub TourBus silent rehearsal studio
- 2 SoleMix remotes with headphone jack
- 4GB Secure Digital Card
- Power supply
- Two Mono to Stereo adapters for acoustic guitars
- JamHub sticker
- User's Manual
- Hours and hours of music making
Same Day Music is an authorized dealer of
JamHub
products.