Same Day Music is an
authorized CAD Audio dealer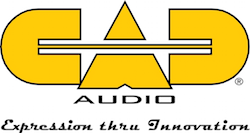 The CAD GXL2200BPSP Studio Microphone Pack contains one GXL2200BP cardioid condenser, one GXL1200BP small diaphram cardioid condenser, one MH110 studio headphone, and one EPF15A pop filter. Shock mount and mic clip are included. P48 (48V) phantom power is required.
CAD GXL2200BP
Offering exceptional value, the CAD GXL2200BP is a large-diaphragm condenser microphone finished in lustrous black pearl chrome. The CAD GXL2200BP's capsule features a sophisticated 1 inch gold-vapor deposited diaphragm. Exceptional sensitivity and low distortion make it an outstanding performer in a variety of live and recording applications. Shock mount, vinyl pouch and polishing cloth included.
CAD GXL1200BP
Finished in lustrous black pearl chrome, the compact and durable CADGXL1200BP condenser is known for its open, transparent sound. Its transformer-less design reduces distortion and optimizes low-end response. A uniform cardioid pattern controls feedback. The CAD GXL1200BP's small size, accuracy, and high SPL capability, make it ideal for miking overheads, high hats, cymbals, and stringed instruments. Mic clip, vinyl pouch and polishing cloth included.
CAD MH110
The CAD Audio MH110 is a circumaural, precision built monitor headphone. The CAD MH110 is equipped with 50mm neodymium drivers offering extended frequency response while delivering exceptional detail and clarity. Designed with an easy-fold, comfort-fit headband allowing for convenient storage and hours of fatigue free listening, the CAD MH110 is an essential tool for enhanced studio performance and a vital accessory for the professional musician.
CAD EPF15A
The CAD EPF15A pop filter features a durable design which includes a flexible metal gooseneck and convenient metal stand attachment. Extremely effective at reducing plosives, the EPF15A is essential for professional vocal production.
Includes
- One GXL2200BP large-diaphragm cardioid condenser microphone
- One GXL1200BP cardioid condenser microphone
- One MH110 studio headphones
- One EPF15A pop filter
Same Day Music is an authorized dealer of
CAD Audio
products.