Same Day Music is an
authorized Casio dealer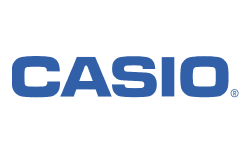 The Casio CGP-700 has four speakers in the top panel, and two low-frequency speakers in its included stand, with a massive 40 watts of power. Whether you're enjoying the sonic experience of a 9-foot concert grand piano, playing along with the built-in rhythms, or listening to your MP3 player via the stereo aux input, this unique 3-way speaker system easily fills the room with rich, detailed sound.
At your fingertips is Casio's famous Tri-Sensor Scaled Hammer Action II keyboard, accurately recreating the touch and response of a concert grand piano with 127 times the resolution of traditional keyboards. Suitable for the most demanding pianist, this keyboard also enables beginning players to develop proper playing technique. Just like a grand piano, the keys have a heavier feel in the lower register, and a lighter feel up top. Even the surface of the keys feels natural, with the reproduced textures of both ebony and ivory.
Having great keys means you need a truly great piano sound. The CGP-700's 9-foot concert grand piano sound is as impressive as it is thanks to a meticulous recording session with over two dozen microphones. The result is a dynamic and expressive concert grand piano that can be used in stereo or mono, and even includes damper resonance simulation. You'll find instant settings to adjust the piano for rock, jazz, classical, and other styles to suit your needs. The CGP-700 can also use the optional SP-33 pedal system, which provides soft, sostenuto, and damper pedals.
The CGP-700 goes far beyond piano, with 550 different instrument tones. You'll find a variety of guitars, strings, basses, drums, synths, and more. There is also a powerful effects system with reverbs, delays, and other essential add-ons such as rotary speakers for organs and phasers for electric pianos. Quickly select one of the 200 ensemble Rhythms, which can accompany your playing with a full backing band which reacts to the chords that you play. You can also save combinations of your favorite tones, layers, splits, rhythms, accompaniment, and tempo for instant recall when performing.
The CGP-700 is a beautiful addition to any home, with its sleek design and matching wooden stand. When performing on the go, it can easily be removed from the stand. At only 26 lbs., the CGP-700 is one of the lightest-weight digital pianos available, and with its 1/4" outputs, you can easily connect to a mixer, amplifier, or PA system.
When you are inspired, it's quick and easy to record your performance. The CGP-700 includes both MIDI and USB audio recorders. Transfer your recordings easily to a computer to share your music.
The CGP-700 is ideal for any educational environment. Duet Mode splits the keyboard into two equal ranges, two people to play side by side on one instrument. An additional Classroom Mode splits the keyboard and configures the CGP-700 audio outputs to work with third party piano lab systems. The front panel also has two headphone jacks, perfect for a teacher and student.
The class-compliant USB port on the CGP-700 can connect to a PC, Mac, or other devices such as an iPad, with no special drivers needed. Just connect, and instantly control your favorite software.
Same Day Music is an authorized dealer of
Casio
products.
- Number of sensors : 3
- Hammer Action: Tri-sensor Scaled Hammer Action Keyboard II
- Key surface finish: simulated ebony and ivory keys
- Touch Sensitivity: 3 sensitivity levels, off
- Sound Source: MXi (Multi-Expressive Integrated) Sound Source
- Max. Polyphony: 128
- Number of Built-in Tones: 550
- Digital Effects:
- Reverb: 17 types
- Chorus: 16 types
- Delay: 6 types
- Master EQ: Brilliance (-3 ~ 0 ~ +3)
- DSP: Yes (Preset for some tones)
- Key Transpose: 25 steps (-12 semitones ~ 0 ~ +12 semitones)
- Tuning Control: A4 = 415.5Hz ~ 440.0Hz ~ 465.9Hz
- Preset Temperaments: 17 Types
- Number of Built-in Rhythms: 200
- Demo Songs: 6
- Lesson Function: Part ON / OFF (16 ch Mixer)
- Tempo Setting: 20 ~ 255BPM
- Number of built-in presets: 305 (including chord progressions)
- Number of setups: 96 (4 areas x 24 banks)
- Number of Songs: 100
- Number of Tracks: 16 Multi Track + 1 System Track
- Capacity per song: Approximately 50,000 notes
- Recording Function: Real-Time Recording, Punch-in/out
- Song Edit: Delete, Copy, Rename
- Track Edit: Delete, Copy, Rename
- Number of Songs: 100
- Recording Spec: Recording / Playback
- Recording Format: .wav (16bit, 44.1 kHz, Stereo)
- Length of Recording per song: Approximately 74 minutes
- Display: 5.3" Color touch panel
- Terminals: USB port (to Host), USB flash drive port
- Pedal: 1 (Damper)
- PHONES: 2 (3.5mm Stereo Mini, Front)
- LINE OUT: Yes (L/MONO, R: 6.3mm Mono Standard)
- AUDIO IN: Yes (3.5mm Stereo Mini)
- SPEAKER JACK: yes (for included speaker stand)
- Amplifiers: 20 W + 20 W
- Power Source: DC 24 V
- Power Supply: AC Adapter: AD-E24250LW
- Power Consumption: 20 W
- Included Accessories: Score Stand, Pedal (SP-3), AC Adapter (AD-E24250)
- Dimensions: 52 x 11.5 x 5.5"
- Weight: 26.2 lbs.
Same Day Music is an authorized dealer of
Casio
products.
Shipping Weights and Dimensions

Shipping Weight: 72 lbs
Shipping Dimensions: 59 x 16 x 15 in