Same Day Music is an
authorized Casio dealer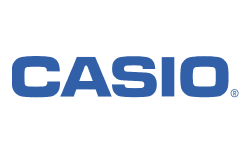 The Casio PX-350 represents a significant step in the continuing evolution of the Privia digital piano line. A combination of updated keyboard action and a more powerful sound engine provide a level of detail, nuance and expression for a superior grand piano experience in the lightweight and stylish design that the Casio Privia line is known for.
Piano Sound
The award-winning grand piano sound in the Privia line has been dramatically improved. The PX-350 utilizes more than three times the memory of the previous generation for a more natural piano tone. In addition, Casio's proprietary sound source "AiR" (Acoustic and intelligent Resonator) provides unmatched realism and detail. This engine provides seamless dynamics for a remarkably expressive and powerful performance. For further realism, a Damper Resonance simulator provides the rich sound of the strings when the sustain pedal is used.
Key Action
The PX-350 also features a redesigned 88-note Tri-sensor scaled hammer action keyboard. The updated action features simulated Ebony and Ivory textured keys for a incredible feel and its three sensors capture the dynamics of a performance with unparalleled speed and accuracy. To further enhance the experience, the action and sound engine take into consideration the speed at which different sized hammers move inside an acoustic grand relative to the velocity the keys are pressed. This timing nuance provides the ultimate key to sound experience.
Powerful Features
The PX-350 has a total of 250 instrument tones built in. Strings, organs, electric pianos, brass, drums, bass and more -- and with the PX-350's registration capability, you can store your favorite splits and layers for live performance use. The PX-350 also has 180 drum patterns with full auto accompaniment and a 17 track recorder for composing your own songs. Ready for the stage or studio, the PX-350 has 1/4" audio outputs so you can easily connect the PX-350 to recording and sound reinforcement equipment.
The optional CS-67 puts the PX-350 at the proper height but can easily be removed so you can take the 25 pound digital piano to the gig. The optional SP-33 pedal system provides the same 3-pedal functionality as a grand piano.
NOTE: Power supply is included.
Same Day Music is an authorized dealer of
Casio
products.
- Keyboard: Number of keys and sensors; 88 keys / 3 sensors per key
- Hammer Action: Scaled Hammer Action
- Tri-sensor Scaled Hammer Action Keyboard II
- Key surface finish: White Keys: ivory feel Black Keys: ebony feel
- Stabilizer: Yes
- Touch Sensitivity: 3 sensitivity levels, off
- Sound Source: AiR (Acoustic & intelligent Resonator)
- Multi-dimensional Morphing AiR Sound Source
- Max. Polyphony: 128
- Tones: Number of Built-in Tones; 250
- Number of direct tone select buttons: 6
- Duet Mode: Yes
- Layer: Yes
- Split: Yes
- Octave Shift: Yes
- Simulator: Hammer Response; Yes (Preset for piano tones)
- Damper Resonance: Yes (Preset for piano tones)
- Digital: Reverb; 4
- Effects: Chorus; 4
- Brilliance: 3 ~ 0 ~ +3
- DSP: Yes (Preset for some tones)
- Auto Harmonize: Yes
- Key Transpose: 25 steps (-12 semitones ~ 0 ~ +12 semitones)
- Tuning Control: A4 = 415.5Hz ~ 440.0Hz ~ 465.9Hz
- Rhythms: Number of Built-in Rhythms; 180
- User Rhythms: 10
- Number of direct rhythms select buttons: 8
- One Touch Preset: Yes
- Rhythm Editor: Yes
- Music Library: User Songs; 10
- Capacity for User Songs: Approx. 3.2MB (Approx. 320KB/song)
- Demo Songs: 6
- Metronome: Yes
- Tempo Setting: 20 ~ 255BPM
- Tapping Function: Yes
- Music Preset: Number of built-in presets; 300 (including chord progressions)
- User presets: 50
- Editing Parameters: Yes
- Registration: Yes
- Memory: Number of setups; 96 (4 areas x 24 banks)
- Recorder: Real Time Rec, Punch IN/OUT
- Number of Tracks/Songs: 17 Tracks, 5 songs
- Audio Recording/Playback: Yes (44.1kHz WAV Format / max. 25 min. )
- Pedals: Included : SP-3 Optional : SP-33
- Half-Damper pedal Operation: Yes (with optional SP-33)
- Display: LCD with backlight
- Pitch Bend Wheel: Yes
- Terminals: USB (to host); Yes
- USB (to device): Yes
- Pedal: 2 (Damper, Soft/Sostenuto)
- Connector for 3-Pedal Unit: Yes
- MIDI IN/OUT: Yes
- PHONES / OUTPUT: 2 (Stereo Standard)
- LINE IN: Yes
- LINE OUT: Yes
- Speakers: (13 cm x 6 cm) x 2
- Tweeter: 5 cm x 2
- Amplifiers: 8 W + 8 W
- Power Source: DC 12 V
- Power Supply: AC Adapter : AD-A12150
- Auto Power Off: Yes
- Power Consumption: 18-W
- Included: Score Stand; Yes
- Accessories: Pedal; Yes (SP-3)
- AC Adapter: Yes
- Color Variations: Black (BK) White (WE)
- Compatible Stand: CS-67
- Optional 3-Pedal Unit: SP-33
- Unit Size & Weight: Dimensions; 1,322 x 286 x 135 mm (w/o score stand)
- with optional CS67 stand: 1,322 x 286 x 760 mm
- Weight: 11.5kg (w/o score stand)
- with optional stand: 21.0kg
Same Day Music is an authorized dealer of
Casio
products.