Same Day Music is an
authorized Chauvet DJ dealer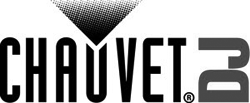 The Chauvet Intimidator Wash LED 150 is the wash complement to the Intimidator Spot LED 150. Fitted with a powerful 40 W, quad-color (RGBW) LED, this little powerhouse will wash the venue in any color you choose. Full RGBW color mixing is available to the user through DMX or simply let the auto and sound-active programs do the work for you.
Features:
- Bright and compact LED moving head wash, perfect for mobile applications and permanent installations
- Quad-color LED and high-quality optics generate bright color combinations
- Fast and precise movements energize the dance floor
- Smooth dimming and vibrant strobing add class and energy to the light show
- Built-in movement macros and move-in-black features minimize programming time
- Power linking saves time running cables and extension cords
- On-board sound-activated programs let you concentrate on the show, not the programming
- Easy access to built-in automated programs to generate a synchronized show in master/slave mode
Same Day Music is an authorized dealer of
Chauvet DJ
products.
- DMX channels: 6 or 15
- DMX connectors: 3-pin
- Pan and tilt: 540degrees / 270degrees
- Pan and tilt ranges: 180degrees, 360degrees, 540degrees pan / 90degrees, 180degrees, 270degrees tilt
- Colors: RGBW color mixing
- Light source: 1 40 W (1.1 A x4) quad-color RGBW LED 50,000 hrs
- Strobe rate: 0 - 20 Hz
- Beam angle: 22degrees
- Field angle: 45degrees
- Illuminance: 750 lux at 2 m
- Power linking: 6 units at 120 V / 12 units at 230 V
- Weight: 6.9 lbs (3.2 kg)
- Dimensions: 8.3 x 8.2 x 10.5 in (211x207x267mm)
Same Day Music is an authorized dealer of
Chauvet DJ
products.