Same Day Music is an
authorized Crate dealer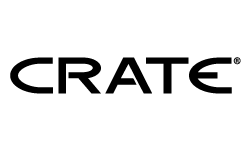 The CA15 "Cimarron" compact amplifier delivers over 12 watts of musical power and incorporates two inputs (each with its own gain control), three bands of equalization, and reverb. A pair of RCA type CD input jacks allows you to practice with your favorite music. A jack for headphones is provided, along with a jack for connecting the CA15 to an external speaker cabinet. A Crate Custom Design 8 in. woofer delivers smooth clear sound with excellent projection and fidelity. The CA15 features a flip-out locking bar underneath the cabinet which allows you to tilt the amplifier back for increased coverage and projection.
Same Day Music is an authorized dealer of
Crate
products.
Output Power Rating: 12+ watts RMS @ 5% THD, 4 ohm load
Low: 15dB @ 80Hz
Mid: 15dB @ 650Hz
High: 15dB @ 10kHz
Input impedance: 1.5M ohm
Max input signal: 7v peak to peak
Total system gain: 52dB @ 1kHz
Input sensitivity: 20mV
Internal speakers: 8 in. Crate Custom Design, 4 ohm, 15 watts; piezo tweeter
Power requirements: 120VAC, 60Hz, 30VA 100/115VAC, 50/60Hz, 30VA 230VAC, 50/60Hz, 30VA
Size and weight: 14 in. H x 14 in. W x 12 in. D, 21 lbs.
Same Day Music is an authorized dealer of
Crate
products.