Same Day Music is an
authorized Crate dealer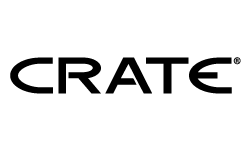 Crate's FlexWave Series reinvents the old-school solid state amp as a modern, fire-breathing tone monster capable of producing the saturated overdrive today's guitarists demand. FlexWave amps feature the remarkably responsive Evolution 5 preamp, as well as Sequential Cascading Gain technology for rich, articulate tone and playability, and Channel Tracking that remembers your effects settings when you switch between channels. Capable of producing a wide array of sounds from crystal clear cleans to white-knucle distortion, FlexWave proves there is no better value around.
Crate FlexWave FW120H Head
FlexWave120H head is the perfect stack top for the pro or semi-pro gigging musician who needs driving power, multiple channels and built-in effects. Its FlexWave Evolution 5 preamp uses Crate's patented Sequential Cascading Gain technology to pump 120-watts of fat, driving tone. Variable 3-channel operation allows you to switch among crystal clear clean, red hot overdrive and screaming high gain channels from the included remote footswitch. With DSP effects, Channel Tracking of effects settings, and Crate's proprietary Shape Control circuit for creating wicked custom leads. Suited perfectly to the Crate G412A/B 4x12 cabinets.
Crate FlexWave FW412A Angle Speaker Cabinet
Capture raw stereo power with the FW412A and FW412B speaker cabinets from Crate. Compatible with any Crate head, including the FlexWave120H, and designed for the next generation of rock players, these 4x12 in. cabs are available in slanted (FW412A) and straight (FW412B) models and can process everything from sparkling cleans to face-melting distortion. Their 120-watts of power handling operate in both Stereo or Mono at 4 or 8 ohms.
A Generation of Affordable Guitar Amps
More than 25 years of award-winning engineering prowess led Crate to develop the remarkably responsive FlexWave Evolution 5 preamp for its FlexWave Series combos and heads. Sequential Cascading Gain technology yields rich, articulate tone that is fully customizable with onboard effects. Get everything from crystal clear cleans to white-knuckle distortion. For sweet tone and roadworthy construction, there is simply no better value around.
Same Day Music is an authorized dealer of
Crate
products.
Flexwave FW120H Guitar Amp Head
- 3 channels
- 120 watts
- Evolution 5 preamp
- DSP effects
- Onboard tuner
FW412 Guitar Cabinet
- Compatible with all Crate heads
- 4x12" speakers
- 120W power handling
- Stereo or Mono operation
- 4 or 8 Ohms
Same Day Music is an authorized dealer of
Crate
products.