Same Day Music is an
authorized Crate dealer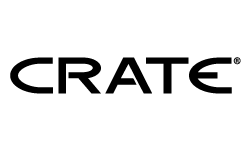 A step-up from the award winning TX50DBE, the Limo amplifiers provide an even more advanced feature selection. Featuring a Crate specially designed woofer and piezo tweeter, the Limo delivers 50 watts of power with digital effects.
With the newly designed injection molded enclosure, the TX50DBE has improved bass response and is lighter and more transportable than ever before! An instrument channel features clean and distortion modes. A microphone channel includes low Z XLR input, and high Z 1/4 in. input, 3-band EQ, and DSP send. A main/aux. section includes dual RCA inputs for CD player, DSP mode for 8 digital effects, headphone jack, and footswitch jack. Provide award-winning tone wherever you go with the Taxi Series.
Player Type: The "Limo" is great for 2 or even 3 instrumentalists, even a bassist. The possibilities are literally limitless. Limitless!
About the Taxi and Limo Series
Take your music anywhere with the battery powered Taxi (TX30) and Limo (TX50) models from Crate. There are so many places where playing your music would be great, but electricity is not available nearby. On the beach or the street, in the woods or the backyard you can now get great sound, excellent tone and credible, powerful musical output. There is nothing else available that can give you the performance of the Taxi and Limo. All models use a standard 12V sealed battery that can operate up to 8 hours, and include the wall charger and auto charging cable with every unit. The 30-watt Taxi models and the 50 watt Limo models provide 2 different variations on the same technology for transportable tone. In April of 1999, Guitar Player magazine recognized the TX30 as the "Editor's Pick" and it's easy to see why. The TX30 is available in either High Viz Yellow or Midnight Black. It features dual channel operation to combine two instruments at once, or an instrument and high impedance microphone. It is our most portable and compact unit and has set the new standard for battery-powered amplification. After an amazing response in 1999, we developed the 50-watt step-up Limo models available in either Midnight Black or Platinum-Tolex. The Limo models include a very full-featured vocal (or clean) channel with high and low impedance inputs, full EQ section and DSP-level.
The instrument channel features a foot-switchable distortion with independent EQs for clean and distortion tones and digital effects. With the CD inputs, playing along with any outside musical material is a breeze. These models all feature a unique cabinet design, which allows use as a high angle monitor, low angle monitor, or can be placed on-end for use as a standard speaker.
A 1-1/2 in. stand mount makes the Limo perfect with a microphone and instrument for acoustic soloists. From Limo users: "We use a trombone, banjo, electric bass, and vocal Mic in our strolling performances at conventions and parties. The trombone and banjo can hold their own, but we needed something for the electric bass and vocal mike...the Limo is the perfect amp, the sound is amazing and both the bass and vocals remain separate and distinct...Thank you Crate."
Same Day Music is an authorized dealer of
Crate
products.
Output Power Rating: 50 watts
Input Impedance: 1M Ohm
Maximum Signal Accepted:
Mic Low Z 2V peak o peak
Mic Hi Z 12V peak to peak
Instrument 12V peak to peak
Gain:
Mic Low Z 72dB
Mic Hi Z 57dB
Instrument 44dB with Gain out, ch.2; .8mV RMS with Gain switch in, ch. 1
Line in Insert 400mV RMS
Sensitivity:
Mic Low Z 20mV RMS
Mic Hi Z 3.5mV RMS
Instrument 80mV RMS with Gain out, ch.2; .8mV RMS with Gain switch in, ch. 1
Line in Insert 400mV RMS
Channel 1 EQs:
Low ±15dB @ 60Hz
Mid ±15dB @ 600Hz
High ±15dB @ 10Hz
Channel 2 EQs:
Low 12.5dB range @ 80Hz
Mid 18dB range @ 800Hz
High 18dB range @ 10Hz
Shape Crate proprietary circuit
Insert Jack: Tip Line In; Ring Line Out; Sleeve Ground
Speakers:
Woofer Crate Custom Design 10 in., 4 Ohm, 100-watt, 1.5 in. voice coil, 16 oz. Magnet
Tweeter 2 in. Piezo, 4 Ohm, 150-watt network
Power Requirements: Internal 12VDC power supply; DC adapter for 120VAC; 12V vehicle lighter adapter (optional)
Size: 15.5 x 13 x 12 in.
Weight: 32 lbs.
Same Day Music is an authorized dealer of
Crate
products.