Same Day Music is an
authorized CruzTOOLS dealer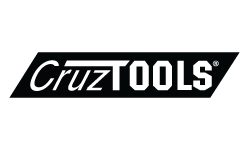 Have tool kit; will travel. Guitar and bass players may know a little about truss rods and action, but few actually attempt adjustment. That's a shame, because a substantial upgrade in your performance can be realized with a properly set up axe. Both GrooveTech kits provide everything you need to work on your guitar or bass, and an Easy Setup Guide is included that takes the mystery out of it. Tools are professional grade and lifetime guaranteed.
While similar in design and content, each kit is optimized for either a guitar or bass. Both include a precision 6-in-1 screwdriver that contains two each Phillips and slotted tips, and two nut drivers (1/4 and 5/16 -inch to handle Gibson and other truss rod nuts). Also included is a 3 LED flashlight, steel ruler, string cutters, 15-blade thickness gauge, and capo. The GTGK1 guitar kit has 11 hex keys that will fit virtually any make of guitar, plus a string winder. Truss rod sizes have a ball-end.
Both pouches contain a compartment behind the tools to store the Easy Setup Guide, your owner's manual, and a spare set of strings. Also included is a pocket to store your picks (picks not provided). With GrooveTech kits, you now have the tools and knowledge to easily set up your guitar or bass, and keep it that way.
Same Day Music is an authorized dealer of
CruzTOOLS
products.
GTGTR1 Guitar Player Tech Kit Contents:
6-in-1 Screwdriver: #1 Phillips, #2 Phillips, 1/4" Slotted, 3mm Slotted, 1/4" Nut Driver, 5/16" Nut Driver
Hex Keys: 1.5mm, 2.5mm, 3mm, 4mm Ball End, 5mm Ball End, 0.050", 1/16", 5/64", 3/32", 1/8" Ball End, 3/16" Ball End
Measurement: 15-Blade Thickness Gauge, 6" Steel Ruler
Misc: 6.25" Diagonal Cutters, Capo, String Winder, Easy Set-Up Guide
Pouch: 600 denier polyester with clear vinyl cover, pick pocket, compartment for manual and strings
Picks not included
Same Day Music is an authorized dealer of
CruzTOOLS
products.
Shipping Weights and Dimensions

with Free CruzTools Jack and Pot Tool

Shipping Weight: 2 lbs

Base Item

Shipping Weight: 2 lbs
Shipping Dimensions: 9 x 9 x 1 in