Same Day Music is an
authorized CruzTOOLS dealer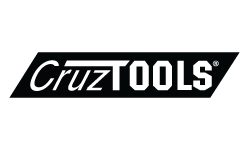 The GTMLT1 provides all the tools needed for basic work, including bridges and truss rods, on most makes and models of electric guitars and basses. 7 hex wrenches are provided, both metric and inch-based, with ball-end tips on truss rod sizes since direct access isn't always possible.
Bridge saddles are covered with 0.050 inch and 1.5 mm wrenches, and common tremolo sizes are also provided. 2 Phillips screwdriver tips (#1 and #2) handle a variety of adjustments, and a 2.5mm slotted screwdriver addresses vintage-style bridge saddle screws. Finally, a ruler is included to help set action.
A principle common to all CruzTOOLS products is quality, and the Multi-Tool is no exception. Tools are professional tech-grade, using a proprietary heat-treated S2 alloy that exceeds ANSI specifications. Polished chrome wrenches and an anodized body round out fit and finish.
Measuring only 3 inches long and 3.3 ounces, the Multi-Tool will fit into any case, gig bag or even a pocket.
Same Day Music is an authorized dealer of
CruzTOOLS
products.