Same Day Music is an
authorized Crown dealer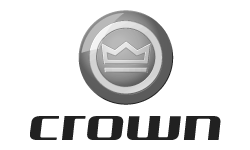 At a maximum 2100 watts, the Crown XLS2000 Power Amp features integrated crossovers, plus switch-mode power supply produce superior sound, and Peakx limiters protect your speakers. Crown's XLS2000 defines the standard for portable PA systems with unmatched performance, technology and affordability. Its advantageous flexibility includes multiple inputs so you can plug in anything and play anywhere, along with several system setup configurations. Weighing less than 11 pounds, compared to 40 pounds for its competitors, it's much easier to set up and move from show to show. Simply put, the XLS2000 is most reliable, versatile, efficient amp available today.
Crown XLS2000 Features
- XLS High Performance, Lightweight Class D amp weighs less than 11 lbs.
- Integrated PureBand Crossover System for better performance and control
- Peakx Limiters provide maximum output while protecting your speakers
- XLR, 1/4 inch, RCA inputs provide outstanding flexibility
- Efficient forced-air fans prevent excessive thermal buildup
- Electronically balanced XLR inputs; touchproof binding post and Speakon outputs
- Precision detented level controls, power switch, power LED, and six LEDs which indicate signal, clip and fault for each channel
- Three-Year, No-Fault, Fully Transferable Warranty completely protects your investment and guarantees its specifications
Crown XLS2000 with Integrated DriveCore Technology
The Crown XLS2000 defines the standard for live sound systems with unmatched performance, technology, and affordability.
The high-performance XLS2000 provides enormous power and flexibility thanks to the integrated DriveCore Technology, PureBand Crossover System and Peakx limiters. And weighing in at only 11 lbs, it provides the ultimate in lightweight portability.
Generating chest-thumping lows and crystal clear highs, the XLS2000 is engineered to meet any demanding audio requirements - reliably and within budget.
The XLS2000 amplifier is also backed by Crown's unequaled Three-Year, No-Fault, Fully Transferable Warranty that covers everything.
With over five decades of experience designing and building rock-solid products, Crown is the standard in amplifier technology. So check out the Crown XLS2000. It's a powerful argument for performance, flexibility, and value!
Integrated DriveCore Technology in the Crown XLS2000
Class D amplifiers are notable for extraordinarily high efficiency and being well suited for driving difficult reactive loads such as subwoofers. However, their performance can suffer impaired performance on marginal and unstable AC line supplies.
To overcome this obstacle, Crown engineers developed DriveCore Technology - a proprietary hybrid analog-digital integrated circuit (IC) developed with Texas Instruments that drives the front end of the Class D output stage. Over 60 years of Crown's design knowledge and experience went into the development of this technology resulting in truly remarkable benefits.
DriveCore Technology provides an extremely wide-tolerance with regards to sagging or dirty AC line conditions providing consistent performance without affecting audio quality. This means that your performance will not be compromised by fluctuating generator power or overloading by lighting rigs, backline gear, etc.
In addition, DriveCore Technology's patented feedback and PWM modulation circuits enable fast recovery on peak transients, accurate reproduction of low-level detail, and precise tracking of low-frequencies at high power levels for maximum subwoofer output.
Crown XLS2000 Advanced Switched-Mode Power Supply
This advanced power supply is highly efficient and optimized for maximum power transfer from the AC line through the Class D output stage to the loudspeakers. A benefit to this is substantial weight reduction when compared to older 60Hz transformer-based power supplies. The XLS2000 weighs only 11 pounds with no compromise in performance. This makes the XLS2000 the benchmark for high performance lightweight portability.
PureBand Crossover System in the XLS2000
The PureBand Crossover System in the Crown XLS2000 adds an enormous amount of flexibility and performance to any system. With this system, the crossover frequency is completely variable allowing the choice of any crossover point between 50Hz and 3kHz on 1/12 octave centers. The use of 4th order Linkwitz-Riley filters provides steep slopes for a seamless transition between high and low drivers. And with four crossover modes to choose from providing the ultimate in flexibility, all of your system needs are covered:
- Crossover Mode (CH1=LPF, CH2=HPF) - When chosen, this mode enables a LowPass Filter on Channel 1 and a HighPass Filter on Channel 2 at the frequency chosen.
- LowPass Mode (CH1=LPF, CH2=LPF) - When chosen, this mode enables a LowPass Filter on both Channel 1 and Channel 1 at the frequency chosen.
- HighPass Mode (CH1=HPF, CH2=HPF) - When chosen, this mode enables a HighPass Filter on both Channel 1 and Channel 2 at the frequency chosen.
- Bridge Mode (LPF or HPF) - When the amplifier is put into Bridge-Mono, you are still able to use the crossover system and employ either a LowPass Filter or HighPass Filter at the frequency chosen.
All of the PureBand Crossover System settings can be fully configured quickly and easily from the front panel using the intuitive LCD interface.
XLS2000 Peakx limiters
Peakx limiters provide the ultimate in performance and protection for your entire system. This advanced algorithm was specifically developed and tuned to work with this amplifier and power-supply to achieve higher SPL will less audible artifacts. This means less distortion, less shutdowns, and maximum safe power delivered to your speakers. The Peakx limiters can be easily turned on or off by channel right from the front panel eliminating the need to be digging around in the back of the dark rack.
Same Day Music is an authorized dealer of
Crown
products.
Specifications
- Total Harmonic Distortion (THD): < 0.5%
- Intermodulation Distortion (IMD): (60Hz and 7kHz at 4:1), From full rated output to -30dB: <0.3%
- Damping Factor (8 ohm): 10 Hz to 400 Hz: > 200
- Crosstalk (below rated 8 Ohm power): At 1kHz: > 85dB, At 20kHz: >55dB
- Input Impedance (nominal): 20 kOhm balanced, 10 kOhm unbalanced
- Load Impedance: 2 to 8 Ohm per channel in Stereo, 4 to 8 Ohm in Bridge Mono
- AC Line Voltage and Frequency Configurations Available (+/- 10%): 120 VAC 60 Hz, 100 VAC 50/60 Hz, 220 and 240 VAC 50 Hz
- Ventilation: Flow-through ventilation from front to back
- Cooling: Internal heat sinks with forced-air cooling for rapid, uniform heat dissipation
- Air Volume Requirements (per minute per unit): 80.15 ft
Minimum Guaranteed Power (per channel, both channels driven)
- Stereo, 2 ohms: 1050W
- Stereo, 4 ohms: 650W
- Stereo, 8 ohms: 375W
- Bridged mono, 4 ohms: 2100W
- Bridged mono, 8 ohms: 1300W
Same Day Music is an authorized dealer of
Crown
products.