Same Day Music is an
authorized SKB dealer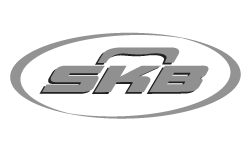 The SKB line of stackable racks have received worldwide acclaim for durability, convenience, and easy handling. Made of ultra-high molecular weight polyethylene, they are less than half the weight of old fashioned wood racks and provide maximum protection. Front and rear covers are gasket sealed to protect equipment from moisture and dirt. Mounting equipment is a snap with provided hardware.
Features
Heavy-duty framework
Heavy-duty handles on all racks provide an easy and secure grasping point
Mounting hardware in the racks is easy with the SKB rack rail and provided hardware
About SKB
SKB has been in business for over 20 years and has a total of 550 employees. Currently operating from nearly 300,000 square feet, they have facilities in Orange, California as well as on the border of Mexico. SKB's distribution base is broad, serving over 6,000 music stores in the United States and has presence in nearly 100 countries.
Vertical integration is truly the picture inside SKB. This is a company that generates its own tooling, does as many fabrication functions as possible from the beginning to end and even generates its own advertising and promotion, in addition to maintaining a web site from within. SKB has 3 product areas in which they concentrate: musical instruments and pro audio, sports, and industrial cases.
Same Day Music is an authorized dealer of
SKB
products.
Rackable Mount Depth: 18 1/2 in.
Front Rail to Rear Rail: 15 in.
Lid Depth: 2 in.
Max. Width: 17 5/8 in.
Max. Height: 11 in.
Exterior Dimensions: 21 in. W x 22 in. D x 13 in. H
Weight: 14.0 lbs.
Same Day Music is an authorized dealer of
SKB
products.