Same Day Music is an
authorized ddrum dealer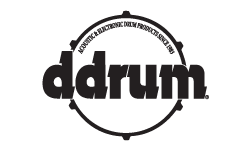 With their superb tracking ability, ddrum DRT triggers set raises the standard of trigger mechanics. With absolutely no adhesives required, the ddrum triggers clamp onto the sides of standard drum hoops. The specially designed transducer is softly pressed against the drumhead. The metal casing protects the trigger from accidental drum hits and the ultra-light pressure of the transducer against the head prevents any dampening effect.
The Dual Redundant Triggers (DRT) series of triggers include two transducers and a switching mechanism. This allows drummers to switch to an alternate transducer without unplugging a cable for ultimate redundant reliability.
Five-Piece Kit comes with 1 DRT Kick, 3 DRT Tom Triggers and 1 DRT Snare Trigger.
Features:
- Secure XLR connector
- Wide Dynamic range
- Rugged metal housing
- Precision response
- Easily replaceable transducer
- Works with popular drum modules
- Dual triggers with toggle switch to select alternate transducer without having to switch XLR
- Snare Drum Trigger: Triggers rim and head separately
- Bass drum Trigger: Increased Sensitivity for accurate response
Same Day Music is an authorized dealer of
ddrum
products.