Same Day Music is an
authorized DigiTech dealer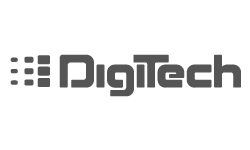 Got a DigiTech iStomp already? Want to add a second (or fourth, or fifth) iStomp to your setup? Expand your rig and save money with the DigiTech iStomp Single Guitar effects pedal with daisy chain cable -- the perfect solution for any iStomp user who's already rocking an iStomp and an iOS Smart Cable. This add-on iStomp pedal includes a four-plug daisy chain power cable for providing power to up to four pedals with a DigiTech power supply you already have.
DigiTech iStomp iOS Smart Cable and iStomp Power Supply sold separately.
Features:
- iStomp works like all other stompboxes on the market
- Turn the iStomp into any pedal available in the Stomp Shop
- Stomp Shop offers more than 20 different pedals to choose from
- More pedals will be continually added to the Stomp Shop
- User defined custom LED color for any pedal loaded to the iStomp
- Die-cut removable custom labels for multiple pedals included
- True stereo in and stereo out
- Stomp Shop Apps saves all your pedals in the app
- Compatible with iPod touch, iPhone, and iPad running iOS 4 or later with Apple's 30-pin dock connector
The DigiTech iStomp is a radical concept in pedals. It works just like a traditional stompbox with one huge exception. It can be completely reconfigured by loading it with any of the 36 (and growing) e-pedals available in the Stomp Shop app.
Unlike devices that require you to stay tethered to your iOS device, the iStomp does all of its processing internally. This means professional-quality, high-definition signal processing with no latency -- and you don't need your iOS device while you're playing.
The iStomp Single includes the iStomp downloadable pedal, 3-pedal barrel cable daisy chain, and 12 e-pedal labels.
Each iStomp comes with two e-pedals: Total Recall digital delay and Redline overdrive. The first time you connect to your iStomp you can choose one more e-pedal from the different DigiTech pedals for only $0.99. After that you can download e-pedals for as little as $0.99.
e-pedal Trial Period
The iStomp is the only stompbox that allows players to demo different e-pedals using their own rig before they buy it. Through the app you can listen to a demo of all the e-pedals but unlike all other stompboxes you load any e-pedal for up to 5 minutes to see how the it sounds through your amps using your guitar before paying anything.
e-pedal Virtual Road Case
The Stomp Shop saves a record of all the e-pedals you purchase becoming your e-pedal virtual road case. You can now carry your entire e-pedal collection with you on your phone. From the Stomp Shop app you can reload any e-pedal to your iStomp at any time.
e-pedal Custom LED Color
You can choose one the color of the 9 dot LED light on their iStomp when you load an e-pedal from the Stomp Shop App e-pedal store and virtual road case. It is a great way to identify each e-pedal when it is loaded on your iStomp.
DigiTech Smart Cable (DSC for iOS)
The DigiTech Smart Cable (DSC) is a proprietary cable developed by DigiTech in conjunction with Apple that allows direct communication between DigiTech products and iOS devices such as an iPod touch, iPhone, or iPad. The iStomp along with the Stomp Shop App are the first DigiTech products to incorporate the DSC cable and DSC Port.
Compatible With:
iPod touch, iPhone, and iPad running iOS 4 or later.
DigiTech and iStomp are trademarks of Harman International Industries, Incorporated, registered in the United States and/or other countries. iPhone, iPod touch, iPod, iPad and App Store are trademarks of Apple Inc., registered in the U.S. and other countries. Made for iPhone, Made for iPod, and Made for iPad means that an electronic accessory has been designed to connect specifically to iPhone, iPod, and iPad, respectively, and has been certified by the developer to meet Apple performance standards. Apple is not responsible for the operation of this device or its compliance with safety and regulatory standards. iPod, iPhone, or iPad are not included. Features, specifications, and appearance are subject to change without notice.
Same Day Music is an authorized dealer of
DigiTech
products.
- Input Connectors: 1/4-inch Stereo
- Output Connectors: 1/4-inch Stereo
- Power Connector: 9VDC (model PS0913DC-01 sold seperately)
- Input Impedance: 500 kOhm (mono), 1 MOhm (stereo)
- Data Connection: DigiTech Smart Cable (DSC) 9 Pin-sold seperately
- Output Impedance: 100 Ohms
- Frequency Response: 20 Hz - 20 kHz +/- 1.7 dB (through DSP)
- Power Consumption: 150 mA @ 9 VDC
- Controls: On/Off Footswitch, 4 Control Knobs
Same Day Music is an authorized dealer of
DigiTech
products.