Same Day Music is an
authorized DigiTech dealer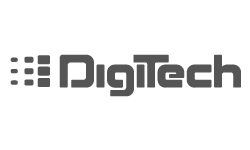 Utilizing Digitech's breakthrough musIQ technology, the Vocalist Live 5 processor makes building harmonies as easy as singing as you play guitar. The Vocalist tracks chords played to create vocal harmonies in that key. Vocalist Live 5 creates automatic intelligent 4-part harmonies, gender control, humanize effect, real-time pitch correction, guitar tuner, 100 presets and 5 metal vacuum switches.
Features
- Automatic, intelligent 4-part harmony, your voice plus 3 more using MusIQ
- Gender control allows you to give the harmonies a male and/or female voice
- Humanize adjusts the natural sound of the harmonies from loose to tight
- Adjustable/Natural, Real-time pitch correction
- Built-in Guitar Tuner
- Updated industrial design
- Staggered button footswitch layout - footswitches are staggered on 2 tier making it easier to use on stage, ensuring you don't hit the wrong button
- 100 User Presets and 100 Factory Presets
- Each User Preset has A/B Patches
- 5 metal vacuum switches
Same Day Music is an authorized dealer of
DigiTech
products.