DigiTech Vocal 300 Vocal Effects Processor Pedalboard Product Description
Same Day Music is an
authorized DigiTech dealer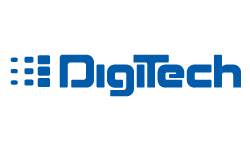 DigiTech proudly introduces the Vocal 300, an affordable Vocal Effects Processor with a built-in expression pedal. Equipped with multiple mic preamp types, the Vocal 300 is ideal for both warm classic vocals or cutting edge distortion and lo-fi styles. The exclusive voice "characters" transform your voice from the scariest of monsters to spacey alien beings. The Vocal 300 comes with 38 fully programmable studio quality effects (up to 7 effects at once). The built-in expression pedal can be assigned to control your choice of up to 3 parameters in real-time. Each effect includes up to 4 adjustable parameters, giving you total flexibility to create the sound you want. The 6 character alphanumeric and 2 character numeric displays, combined with the 4-knob matrix editing system, provide a simple straightforward user interface.
The Vocal 300 also includes 40 great sounding Factory Presets and 40 User Presets for your own custom creations. The rear panel features a 1/8 in. CD input for singing along with your favorite music, a 1/4 in. unbalanced input, a balanced XLR input, a balanced XLR mono output, a 1/8 in. TRS stereo line output, and a 1/8 in. headphone output.
Features:
- 7 effects at once
- Up to 4 fully programmable parameters per effect
- 24-bit A/D/A converter
- Balanced XLR input and output
- Line input
- 1/4 in. TRS stereo line output
- Expression pedal with V-Switch
- Simple user interface
- 6-digit alphanumeric display
- 2-digit numeric display
- Rugged metal chassis
- 40 user/40 factory presets
- Power supply included
Effects List
- Mic pre & voice characters
- Compression
- EQ
- Noise Gate
- Chorus
- Flanger
- Phaser
- Tremolo
- Vibrato
- Strobe
- Doubler
- Envelope
- Pixelator
- Detune
- Pitch Shifter
- Whammy
- Digital Delay
- Analog Delay
- Ping-pong Delay
- 8 Reverb types
Same Day Music is an authorized dealer of
DigiTech
products.
DigiTech Vocal 300 Technical Description
- Inputs: 1/4" TS and XLR
- Outputs: Stereo 1/4" TRS and Mono XLR
- Headphone: 1/8" TRS
- CD Input: 1/8" TRS
- A/D/A: 24-bit
- Sample Rate: 44.1 kHz
- Simultaneous Effects: Up to 7
- Effects: Mic pre and voice characters, compression, EQ, noise gate, chorus, flanger, phaser, tremolo, vibrato, strobe, doubler, envelope, pixelator, detune, pitch, Whammy, digital delay, analog delay, ping-pong delay, 8 reverb types
- Memory Capacity: 40 User/40 Factory
- Power Requirements: 9VAC, 1.3A (PS0913B Included)
- Power Consumption: 10 Watts
- Dimensions (L x W x H): 8.5 x 13 x 2.25 in.
- Weight: 3.76 lbs.
Note:
Specifications subject to change without notice.
Power Supply
: PS0913B (Included)
Same Day Music is an authorized dealer of
DigiTech
products.
DigiTech Vocal 300 Vocal Effects Processor Pedalboard Catalog Description
Convenient live vocal effects@Group up to 7 effects at once@Balanced XLR I/O@38 high-quality effects@Built-in expression pedal
Same Day Music is an authorized dealer of
DigiTech
products.