Same Day Music is an
authorized Diago dealer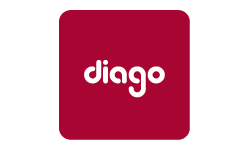 The Diago PS01 Powerstation is the ultimate pedal board power supply. It will power from 1 to 30 pedals without noise or hum.
Powering multiple effects pedals has long been a problem, and there are many power supplies available at varying costs, quality, compatibility and performance. Most pedal power supplies are transformer type, linear regulated designs, which are cheap to design and develop, but are expensive to make (and therefore buy), noisier, bigger, heavier and they get much hotter!
Cheaper power supplies are usually under-rated, unregulated, poorly filtered designs that polute your guitar's signal with splurges of noise and hum. More expensive power supplies are often engineering marvels, but there really is no need and they cost far too much.
The Diago Powerstation uses digital switch mode technology, making it quiet, light, efficient and small, reliably powering your pedals so you can concentrate on making music.
What pedals will the Powerstation work with?
The daisy chains will power most 9V DC pedals that follow the Boss convention of 2.1mm, center negative barrel plugs, including most by Boss, Danelectro, Dunlop, Digitech, Ibanez, Korg, Morley, MXR and Zoom.
Features
- It can power from 1 to 30 pedals (with enough daisy chain cables) with ease.
- It automatically supplies the required amount of current, up to 3,000mA
- It's quiet - uses studio quality components for hum and noise free operation
- It's small - much like the power supply you'd get with a laptop
- It's light - so it can be Velcroed down to your pedal board (Velcro supplied)
- It's tough - the heavy duty ABS case is durable and shock resistant
- It's efficient - so it doesn't get hot
- It's safe - the design includes short circuit and voltage protection, and meets all national and international safety regulations so that you or your pedals won't fry
Includes:
- Diago Powerstation base unit
- Diago Daisy Chain with 6 x 2.1mm negative center plugs
- 2 meter long AC mains cable
- Strip of 25mm wide adhesive backed Velcro
- Operation Manual
Same Day Music is an authorized dealer of
Diago
products.