Same Day Music is an
authorized Ebtech dealer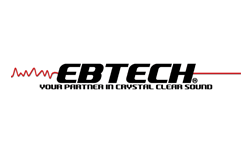 The Ebtech HEXLR Hum Eliminator is designed to eliminate 60 cycle hum (60Hz AC signal) caused by Ground Loops. It is also designed to convert unbalanced lines to a true balanced lines (and vice versa). Why? Unbalanced lines are more susceptible to picking up electrical noise and RF interference.
Silence AC Hum, forever! Do you hear a hum or buzz in your audio signal? Are long unbalanced lines across stage creating noise problems? Get the Hum Eliminator from Ebtech.
Almost all AC hum (60Hz in the US, 50 Hz in most other countries), is caused by ground loops. These ground loops act like radio antennae picking up hum and noise. The Hum Eliminator completely eliminates this by breaking the ground loop, making it impossible for the signal lines to pick up the AC hum and noise in the first place.
Just plug the Hum Eliminator in the signal lines between the offending pieces of equipment and you're done! Quick and easy. No buzz, no hum. No signal degradation. No filtering. No noise gates. No dangerous ground lifts.
Same Day Music is an authorized dealer of
Ebtech
products.
Eliminates AC hum / 60Hz buzz and noise, quick and easy
Breaks ground loop safely, while leaving all signal grounds intact
Automatically translates signal voltages to match differences in ground potentials, avoiding clipping
Converts automatically back and forth between balanced and unbalanced lines at either end
1/4 in. TRS "smart" jacks (tip, ring, sleeve) inputs and outputs.
Completely passive design with audiophile quality components assures the best possible noise and distortion performance
Frequency response 20Hz to 70kHz plus or minus 0.5dB
Distortion less than 0.005% THD @ 1kHz
Crosstalk better than -97dB
Maximum source impedance 1kOhm. Minimum load impedance 10kOhm
2 Year warranty. Ebtech quality and reliability
Made in the U.S.A.
Same Day Music is an authorized dealer of
Ebtech
products.
Shipping Weights and Dimensions

Shipping Weight: 2 lbs
Shipping Dimensions: 9 x 6 x 2 in