Same Day Music is an
authorized Electro-Harmonix dealer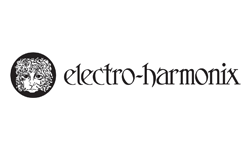 Transform your guitar into a sitar or bass into a bass sitar! The Electro-Harmonix Ravish Sitar pedal creates two separate voices from the notes you play: a polyphonic lead voice that faithfully tracks your playing while including adjustable timbre and decay, plus tunable sympathetic string drones which resonate in loudness based on the dynamics and pitch range of your notes.
The sympathetic string drone gives you a choice of keys and scales to work within or you can create your own custom scales. Modulation adds further movement and realism to the drone. Two expression pedal inputs enable the player to simultaneously bend the pitch of the lead voice and control the volume of the sympathetic strings. A main output plus a sympathetic-only output provide maximum flexibility. You can even save and recall up to 10 presets.
The Ravish Sitar takes you from raga to rock, and beyond!
NOTE: 9v DC-200 power supply included.
Same Day Music is an authorized dealer of
Electro-Harmonix
products.
- Lead sitar voice tracks your notes polyphonically with a wide range of tonal possibilities
- Selectable decay speed for the Lead voice
- Sympathetic string drone simulation with a wide tonal range
- Selectable keys and scales including major, minor and exotic provided for the Sympathetic strings
- Create custom Sympathetic string scales from your guitar
- Ability to choose the Sympathetic key by playing a note on your guitar
- Modulation adds movement to the sympathetic strings
- Bend the pitch of your Lead voice notes using an optional expression pedal
- Control the volume of the Sympathetic drone using an optional expression pedal
- Separate Main Output for all voices plus a secondary Sympathetic Only Output
- Save and recall 10 presets
9 Volt power supply provided
Same Day Music is an authorized dealer of
Electro-Harmonix
products.