Same Day Music is an
authorized eMedia dealer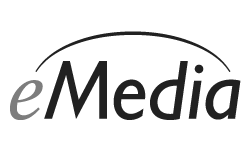 This CD features 114 step-by-step lessons by renowned bass instructor John Arbo. Learn to play using full motion video with multiple angles and close-ups. Over 200 songs and exercises teach all the skills you need to start playing, including triads, fills, syncopation, plus creating a bass line. Includes multitrack recorded audio, variable-speed MIDI, bass-only and no-bass options. Features songs by the Grateful Dead, Bob Dylan and others. Includes an animated fretboard, automatic tuner, recorder and metronome.
Over 100 Lessons
Bass has never been so easy as with this beginning level CD-ROM. Bass Method 1 features 114 step-by-step lessons with on-screen instructor John Arbo. Over 30 split-screen videos show multiple angles and close-ups of both hands. Instructor John Arbo has been teaching bass for over 25 years and is currently on the music faculty of the New School in New York City. He has performed with Liza Minelli and Les Paul, among others, and has been the bassist for many broadway shows.
Over 200 Songs and Exercises with an animated fretboard, recorded audio and variable-speed MIDI audio teach all the skills you need to start playing. Learn to play using triads, fills and syncopation, and to create a bass line for any song you like. Includes full multitrack audio, as well as bass-only and no-bass audio options, so you can perfect your technique and play along with the band. Features hit songs made famous by the Grateful Dead, Creedence Clearwater Revival, Bob Dylan, Steve Miller and others. Many of these songs are also in eMedia's Guitar Method, so bass and guitar students can jam along with each other as they learn.
eMedia Bass Method teaches both tablature and standard music notation, including scales and intervals.
Over 30 Full Motion Videos
With split-screens and close-ups (as needed), watch your instructor demonstrate proper techniques for playing exercises. Pause, rewind and replay to see proper fingerings and techniques at your own pace, as often as needed.
More Features
- Automatic Tuner: Tune your bass quickly and easily. A precision gauge allows you to play into your computer's microphone and immediately get feedback to see if you're too high or too low. Full audio reference notes also provided.
- Animated Fretboard: Displays fingering positions as the music plays. It allows you to see exactly how to play the song on a bass fretboard as you hear the music. Music tracking highlights the notes being played on the screen, making it simple to follow along. Includes options for both right- and left-handed, as well as mirrored views. With the variable-speed MIDI tracks, the animated fretboard can step through fingerings at whatever speed you like.
- Digital Metronome: Allows you to set your own tempo and work on your speed, rhythm and timing. Provides both visual cue and/or audio tick. Full range of tempi, from largo to presto.
- Digital Recorder: Record and play yourself back! This feature allows you to compare your recordings with the instructor's version, record yourself playing bass while accompanied by the band, fine tune your skills and store musical ideas.
- Chord Dictionary: Includes recorded sounds for over 250 guitar chords, so that you can hear what your bass will sound like with different guitar chords. Easy access helps you check chords quickly.
Same Day Music is an authorized dealer of
eMedia
products.