Same Day Music is an
authorized eMedia dealer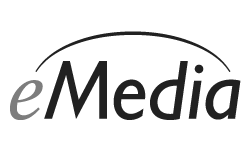 The eMedia Interactive Rock Guitar CD-ROM makes learning quick and easy with over 100 audio- and video-enhanced guitar lessons and rock gear tips. You can start from scratch, and eMedia's revolutionary teaching style will have you playing hit songs, chords and riffs within minutes. The Animated Fretboard shows you all the fingerings. Instant Feedback helps you learn quickly and easily. eMedia's advanced audio recognition software technology actually listens to your playing melodies and shows you whether the correct notes are played. It's like having a teacher point out your mistakes!
Over 100 lessons with full-screen videos will get you playing fast. Lessons written by Charles McCrone, a graduate of the cutting-edge Guitar Institute of Technology, with over 25 years of playing and teaching experience, takes you through all of the techniques needed to play rock guitar. These include movable power chords, barre chords, effects pedals, yanks, hammer-ons, pull-offs, palm muting, distorted riffs, the blues scale, using feedback, the whammy bar and more. eMedia Interactive Rock Guitar includes over 40 songs, including hits from Van Halen, Black Sabbath, Green Day, Nirvana and more! Also included are over 40 Jam Tracks for you to play along with and practice. eMedia Interactive Rock Guitar is hosted by Steve Rock (KISW's "Metal Shop"). Bonus accessories, which include a digital metronome, finger tracker, chord dictionary, automatic tuner, and digital recorder, make eMedia Interactive Rock Guitar a complete package. It's everything you need to learn to play rock guitar.
Lessons include
- Electric Guitar Parts, Stringing, Tuning, Holding, Finger Position, Numbering, Musical Alphabet and the Fretboard.
- Open Position Power Chords, Tab Notation, Distortion
- Open Chords, "All Right Now," Minor Key Exercise, EQ
- Strumming Chords, Smashing Pumpkins-Style Song,
- Major Key Punk Riff, Picks
- Movable Power Chords, "Don't Fear the Reaper," Verse from "Lake of Fire," The Blues Scale, Movable Bridges
- Strumming Pattern, Rolling Stones-Style Song, The Pinky,
- Standing/Not Standing
- More with Open Power Chords, AC/DC-Style Song, E Blues Scale Riff,
- Your Practice Area
- Embellishing Open Power Chords, The Yank, Classic Rock Riffs, Effects Pedals
- More with Movable Power Chords, "Tomorrow," Alternate Picking,
- Distortion Pedals
- More 6th String Power Chords, Sabbath-Style Tune, Hammer-Ons &
- Pull-Offs, Playing with Other Musicians Part 1
- More Open Chords, "Tomorrow" with Muting, Chromatic Warm-ups, Playing with Other Musicians Part 2
- Shuffle Strum, Blind Melon-Style Song, Movable Blues Scale, Reverb
- Dominant 7th Chords, 12 Bar Blues, Punk Shuffle Riff, Whammy Bar Part 1
- The Blues Boogie, 12 Bar Blues with Boogie, Bent Notes, Whammy Bar Part 2
- 5th String Power Chords, Adding a Blues Scale Lick to Silverchair,
- Complete Form of "Tomorrow," Recording Yourself
- Combining Movable Power Chord Grids, "You Really Got Me," "All Day and All of the Night," Lead Licks with the A Blues Scale, "Lake of Fire" Solo
- Modern Punk Strum 1, Pop-Punk Progression, Pop-Punk Riff
- Palm Muting, "Paranoid" with Palm Muting, Muting Distorted Riffs,
- More Ways to Manage Distortion
- Mixing Palm Muting with Regular Strums, Green Day-Style Song,
- Basing a Riff on Chord Roots, Feedback
- Modern Punk Strum 2, Major Key Punk Progression in Blink 182-Style, Another Movable Blues Scale, The Wah Pedal
- Chord Review and Integration, Open and Power Chord Song, Movable Major Scale - 6th String Root, Delay
- Picking Patterns, Intro to "Don't Fear the Reaper," Major Scale Sequence, Modulation Effects
Same Day Music is an authorized dealer of
eMedia
products.