Same Day Music is an
authorized EarMaster dealer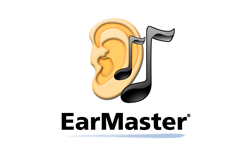 EarMaster will challenge all trained and untrained ears! It is for all vocalists and musicians playing guitar, piano, bass, drums, flute or any other. EarMaster includes exercises in identifying intervals, chords, chord inversions, chord progressions, scales and modes. You will also find exercises in transcribing melodies and rhythms and in sight-reading or imitation of rhythms. The broad range of exercise areas covers all your needs for training pitch, harmonies and rhythms! All together the exercises areas will help you enhance your musicality and improve your playing!
Features
- Extended ear training exercise areas
- Interval Singing
- Chord Inversions
- Chord progressions
- Scale Identification
- Melodic dictation
- Rhythm Imitation
- Rhythm dictation
- Rhythm correction
Your own personal teacher
EarMaster includes two advanced Tutors that will guide you and increase the level of complexity as you improve your ear. The Standard Tutor has 440 lessons ranging from beginners to advanced users. The Jazz tutor has 211 lessons with swing rhythms and jazz chords. You can take a lesson again and again, because it will change every time you take it.
Powerful tool for advanced users
You can customize EarMaster more than any other ear training tool. There are a lot of settings for the user interface and for the way you use EarMaster. While you work with a lesson you can change clefs, time limits, input methods, tempo, sounds, etc. EarMaster also allows you to use your MIDI instrument to insert tones and rhythms, or as a remote control. There are also keyboard shortcuts to all features. A great feature is that you can make your own custom tuned string instrument for inserting and displaying the tones on the screen. Even left handed string instruments are possible!
Customized exercises
In the customized mode you are in control of the exercises and you can configure them to do exactly what you want. You can customize pitch ranges, keys and meters, how the chord or interval should be placed in the keys, how intervals and chords are played, and you can specify exactly what intervals, chords and rhythm values to work with, and much more. You can of course also define your own customized chords, scales and chord progressions.
Instant feedback
EarMaster gives instant audiovisual feedback on everything you do. The tones you enter are transcribed simultaneously on the staff and on the on-screen instruments. When you submit your answer, EarMaster will tell if your answer is wrong. Your answer and the correct answer will be shown on the staff and instruments, and you can hear both individually. This is a very effective learning process where you learn from your errors and improve your ear faster than with any other training method.
Guitar, piano, bass, violin, cello, ...
Make ear training a musical project by relating it to an instrument you play. EarMaster is designed for musicians playing almost any instrument. You can interact with EarMaster in a multitude of ways. EarMaster supports onscreen piano, guitar, bass, violin, cello, banjo and any other customized string instrument. Using General MIDI, you can utilize all of the 128 instruments and sounds. EarMaster also comes with real-time Sound2MIDI technology that allows you to sing and clap your answer using a microphone - and to play your answer on your favorite instrument! You can also use the onscreen staff, multiple-choice, or use MIDI input from keyboards and other MIDI-devices.
Detailed statistics on your progress
You can monitor your progress by viewing the detailed statistics about your performance. Has your ear improved at identifying the minor 7th chord? What progress have you made in the past two weeks? Are you answering faster? How much time did you spend on ear training during the past month? EarMaster will provide all this information for you.
Same Day Music is an authorized dealer of
EarMaster
products.
System Requirements
Windows 98, ME, 2000, XP, Vista and 7
Mac OS X 10.4, 10.5 and 10.6, Intel or PowerPC (Universal Binary)
Disk space: 28 MB
Same Day Music is an authorized dealer of
EarMaster
products.