Same Day Music is an
authorized eMedia dealer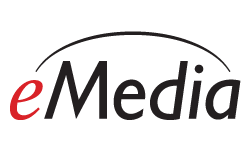 The expanded version of the world's best-selling beginning guitar CD-ROM! There are 165 comprehensive lessons covering everything from the basics through chord strumming, playing melodies and fingerpicking. The modern rock chapter includes various contemporary strumming styles, movable power chords and power chord riffs. Now with over 50 full-motion videos including split-screens and close-ups of both hands. Includes an animated fretboard, multi-track audio, variable-speed MIDI and over 70 popular songs. This version also includes a rock version of "Knockin' on Heaven's Door" in the style of Guns N' Roses. Also features an automatic tuner, digital metronome, one-track recorder and 250-chord dictionary!
Features:
70+ Songs
Guitar Method 1 features songs covering rock, blues, classical, country and folk genres to make learning fun and memorable. Dynamic, multi-track audio has been added to this version which includes many hit songs popularized by artists such as Bob Dylan ("Knockin' on Heaven's Door"), Rolling Stones/Doors ("Little Red Rooster"), the Steve Miller Band ("Rock N' Me"), Heart ("Dreamboat Annie"), Rod Stewart/Tom Waits ("Downtown Train") and the Grateful Dead ("Uncle John's Band"). Also included are popular songs such as "Scarborough Fair," "La Bamba," "Midnight Special," "Ode to Joy," "Minuet," "Greensleeves," "House of the Rising Sun" and many others.
Music Notation Display Options
Learn via guitar tablature or standard music notation through this easily accessible menu option.
Full Motion Video
Professional guitar instructor Kevin Garry, Ph.D., guides you in over 30 videos with demonstrations of techniques.
Animated Fretboard
Displays fingering positions as the music plays. It allows you to see exactly how to play the song on a guitar fretboard as you hear the music. Music tracking highlights the notes being played on the screen, making it simple to follow along. Includes option for both right- and left-handed views.
Variable-speed MIDI
Slows down the audio to any tempo, while the Animated Fretboard shows song fingering as the music plays. Learn at the pace best suited to your skill level!
165 Step-by-Step Lessons
Arranged in ten chapters, the lessons cover the basics from holding/stringing/tuning the guitar to playing chords and melodies, culminating in an explanation of fingerpicking styles and reading standard music notation. Lessons include a variety of exercises and songs. In total, there are over 30 full-motion videos and over three hours of audio and video! On-screen teacher Kevin Garry, Ph.D., provides clear and friendly instruction.
Automatic Tuner
Tune your guitar quickly and easily. A precision gauge allows you to play into your computer's microphone and immediately get feedback to see if you're too high or too low. Full audio reference notes also provided.
Chord Dictionary
Includes fingering charts and recorded sounds for over 250 chords. Easy access helps you learn songs with chords quickly. An indispensable reference tool!
Digital Metronome
Allows you to set your own tempo and work on your picking speed, rhythm and timing. Provides both visual cue and/or audio tick. Full range of tempi, from largo to presto.
Digital Recorder
Record and play yourself back! This feature allows you to compare your recordings with the instructor's version, fine tune your skills and store musical ideas.
Same Day Music is an authorized dealer of
eMedia
products.