Same Day Music is an
authorized eMedia dealer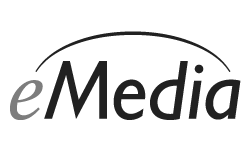 Learn to play hit songs in all styles, including rock, blues, country, classical and folk genres. This version now has a variable-speed MIDI track for slowing down the music and separate audio tracks including no-guitar, guitar-only and bass-only.
eMedia Guitar Songs presents over 20 songs made famous by artists such as Eric Clapton, Melissa Etheridge, Heart, Willie Nelson, Bonnie Raitt, Santana, Talking Heads, Stevie Ray Vaughan, The Who and more. Song playing tips are included for both bass and guitar players. Includes a realistic animated fretboard which now even shows bends and vibrato in addition to fingering positions in real-time. Also includes an automatic tuner and metronome. Options for guitar tablature or standard notation available on each song.
Features
- Animated Fretboard: Watch the fretboard come alive with real-time display of notes, including bends, vibrato and slides.
- Real Instrument Multi-Tracking: You've got the option to zero in on the guitar-only tracks or turn off the guitar track and play along with the rest of the band
- MIDI Tracks: variable-speed MIDI tracks for each song allow you to slow down the music and learn at whatever pace you like.
- Preview and choose songs easily through the animated jukebox. This makes it easy to navigate, with the option to select songs by genre.
- Automatic Tuner: Visually tune your electric or acoustic guitar by playing into a computer microphone.
- Digital Metronome: Allows you to set your own tempo and work on your picking speed, rhythm and timing.
- Digital Recorder: allows you to compare your recordings with the instructor's version, fine tune your skills and store musical ideas.
- Playing Tips: Instructional material presents the chords and tips needed to master the song.
Same Day Music is an authorized dealer of
eMedia
products.
Minimum System Requirements
- Windows Pentium PC: Windows 95 / 98 / NT / 2000 / Me / XP, 16 MB free RAM
- Macintosh Power PC: System 7.5.3 or later, 16 MB free RAM
Songs:
Rock Songs
- "Behind Blue Eyes" - The Who
- "Baby, I Love Your Way" - Peter Frampton (Played and sung by Peter Frampton!)
- "Oye Como Va" - made famous by Santana
- "I'm the Only One" - Melissa Etheridge
- "Magic Man" - Heart (recording by Roger Fisher, former guitarist of Heart)
- "That'll Be the Day" - Buddy Holly
- "Truckin'" - Grateful Dead
Blues Songs
- "Before You Accuse Me" - made famous by Eric Clapton
- "The Sky is Cryin'" - made famous by Stevie Ray Vaughan
- "(Sittin' on the) Dock of the Bay" - Otis Redding
- "Bad, Bad Leroy Brown" - Jim Croce
- "Take Me to the River" - made famous by the Talking Heads
Country Songs
- "On the Road Again" - Willie Nelson
- "Blue Moon of Kentucky" - made famous by Elvis Presley
- "Georgia on My Mind" - made famous by Ray Charles
- "I Can't Make You Love Me" - made famous by Bonnie Raitt
Classical Songs
- "Eine Kleine Nachtmusik" - Mozart
- "Lullaby" - Brahms
- "Minuet" - Bach
Folk
- "Sometimes I Feel Like a Motherless Child"
- "Swanee River"
Same Day Music is an authorized dealer of
eMedia
products.