Same Day Music is an
authorized eMedia dealer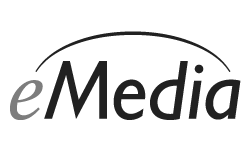 The eMedia Learn to Play Guitar Pack includes a full-size Sequoia acoustic steel-string guitar, a guitar strap, an extra set of strings, a guitar pick and the eMedia Guitar Method CD-ROM. The Sequoia guitar is made from fine woods -- the spruce top helps give it a warm, full sound and the durable rosewood fretboard will last through many years of playing. The best-selling Guitar Method CD-ROM teaches with over 165 step-by-step lessons covering everything from basics to chord strumming, playing melodies and finger-picking.
Includes:
- Full-size Sequoia acoustic guitar with rosewood fretboard and spruce top
- eMedia Guitar Method CD-ROM with over 165 step-by-step lessons
- Gig bag
- Guitar strap
- Extra set of strings
- Guitar pick
eMedia Guitar Method includes over 30 videos and over three hours of audio from guitar instructor Kevin Garry, Ph.D. Learning guitar is made fun through familiar hit songs by artists like Bob Dylan, the Grateful Dead and Steve Miller. This version includes additional lessons including lessons on instrument care, chord progressions and blues songs.
eMedia Guitar Method 1 includes an animated fretboard, which displays the fingering for each song and exercise in real-time adjustable in four separate viewing angles. Multitrack audio gives full band accompaniment on many of the hit songs. This version is a multi-speed MIDI track option allowing students to practice any song or exercises at whatever tempo they want. There is also the option to learn using either tablature or standard music notation. Additional features include a built-in automatic tuner, digital metronome, recorder and 250-chord dictionary.
Guitar Method 1 features many hit songs, including:
Knockin' on Heaven's Door - Bob Dylan
Little Red Rooster - made famous by the Rolling Stones
Rock N' Me - Steve Miller Band
Downtown Train - made famous by Rod Stewart
Uncle John's Band - The Grateful Dead
Scarborough Fair - made famous by Simon & Garfunkel
Ode to Joy - Ludwig van Beethoven
House of the Rising Sun - made famous by the Animals
La Bamba - made famous by Ritchie Valens and Los Lobos
Midnight Special - made famous by Creedence Clearwater Revival
"The ultimate way to learn how to play guitar!" - Peter Frampton
"eMedia's Guitar Method 1 is the best CD-ROM package I've seen for guitar instruction."
-Jon Chappell, editor of Guitar One magazine
"I used to teach guitar, and eMedia's Guitar Method is the greatest because it centers around playing songs. And if it's not about playing songs, what's it about?"
-Nancy Wilson, guitarist/vocalist of HEART
"One of the best programs we've seen in the music-teaching software category."
"4 Picks" (Highest rating for a guitar tutorial!) - PC Magazine
Same Day Music is an authorized dealer of
eMedia
products.