Same Day Music is an
authorized eMedia dealer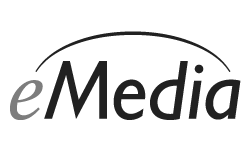 Learn to play lead guitar and more! Everything you need to take your playing beyond basic chords and melodies. New techniques are demonstrated in over 175 lessons with full-motion video, variable-speed MIDI, recorded audio and an animated fretboard. You'll learn to play solos like the ones Eric Clapton and Jimi Hendrix made famous, using newly acquired lead guitar skills. You'll also find rhythm and fingerstyle chapters, plus lessons on the basics of improvisation. The new scale directory provides fingerings, recordings and variable-speed MIDI for over 200 scales. Additional accessories include an automatic tuner, digital metronome, recorder and 1000-chord dictionary with audio playback.
Intermediate Guitar Method features over 50 songs including:
"All Along the Watchtower" - made famous by Bob Dylan
"All Along the Watchtower" - rock version made famous by Jimi Hendrix
"Spoonful" - made famous by Eric Clapton, Willie Dixon, and The Rolling Stones
"Jet Airliner" - The Steve Miller Band
"Drive On" - Johnny Cash
"Time in a Bottle" - Jim Croce
"Fur Elise" - Ludwig van Beethoven
"Malaguena" - Ernesto Lecuona
"Touch of Grey" - The Grateful Dead
"I'm Your Captain/Closer to Home" - Grand Funk Railroad
"Too Much to Lose" - made famous by Jeff Beck
"Sloop John B" - made famous by the Beach Boys.
Features
Music Notation or Tablature: Every screen can be displayed in either guitar tablature or standard music notation with an easily accessible menu option.
Audio Tracking: Highlighting of the music and lyrics as they're heard makes it easy to follow along on guitar.
Full Motion Video: Professional guitar instructor Kevin Garry, Ph.D., guides you in over 30 videos with demonstrations of techniques.
Animated Fretboard: Watch the fretboard come alive with real-time display of notes, including bends, vibrato and slides! Includes both right- and left-handed views from both the perspective of looking down at your guitar and across at an instructor's guitar.
Variable-speed MIDI: Slows down the audio to any tempo, while the Animated Fretboard shows song fingering as the music plays. Learn at the pace best suited to your skill level!
Over 175 Step-by-Step Lessons: You'll learn to play solos like the ones Eric Clapton and Jimi Hendrix made famous, using newly acquired skills such as hammer-ons, pull-offs, bends, vibrato and slides. Barre chords and different strumming styles are covered in the rhythm chapters, and there's a fingerstyle chapter as well. Intervals, scales and the basics of improvisation are also covered in this comprehensive volume.
Scale Directory: Fingerings, recordings and variable-speed MIDI for over 150 scales make practicing and learning new scales easy. When scales are introduced in the lesson material, they are followed by sample songs applying those scales, making the learning experience practical and fun.
Music Theory: An interactive circle of fifths helps teach music theory and is linked to scales in the scale directory. Intervals, chord construction, the basics of improvisation, and modes are also covered in Intermediate Guitar Method.
Automatic Tuner: Tune your guitar quickly and easily. A precision gauge allows you to play into your computer's microphone and immediately get feedback to see if you're too high or too low. Full audio reference notes also provided.
Chord Dictionary: Includes fingering charts and recorded sounds for over 1000 chords. Easy access helps you learn songs with new chords quickly. An indispensable reference tool!
Metronome
Digital Metronome: Allows you to set your own tempo and work on your picking speed, rhythm and timing. Provides both visual cue and/or audio tick. Full range of tempos, from largo to presto.
Digital Recorder: Record and play yourself back! This feature allows you to compare your recordings with the instructor's version, fine tune your skills and store musical ideas.
Same Day Music is an authorized dealer of
eMedia
products.