Same Day Music is an
authorized eMedia dealer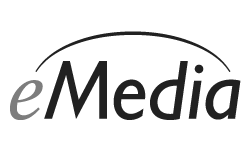 Over 150 lessons and 50 songs with a focus on blues, classics, conventional scales, chord progressions, improvisation and other techniques necessary for mastering the piano.
This CD-ROM is a comprehensive musical experience. It teaches you to improve your playing, gain control of the keyboard, and develop your musicianship. You'll learn to play pieces by famous composers in a broad range of musical styles, from Baroque to the present. You will also develop your musical creativity by learning how to improvise. Vadim Ghin, M.A., who has taught at the renowned Juilliard School of Music, guides you with video demonstrations of techniques and practical advice that will elevate your playing to a standard. Alongside conventional scales, chord progressions and finger techniques, you will learn: the blues form, scales and patterns needed to create your own improvisations and songs.
Features
Vadim Ghin, author of the innovative eMedia Intermediate Piano and Keyboard Method CD-ROM, holds a Masters Degree in Piano from the Julliard School of Music, and has taught extensively at Julliard, New York University, and the Manhattan School of Music.
Over 150 lessons offer a comprehensive curriculum that will give the intermediate piano player the skills needed to take their playing to the next level. Beginning with intervals and expanded hand positions, the lessons progress through building dexterity, advanced rhythms and transitions, interpretive expression marks and voicing, and finally to blues, improvisation based on the blues, and the piano in ensemble.
Song Highlighting and Looping: Highlight an entire page, or just a portion of a song, and loop it for playback at whatever speed you are comfortable playing. Selected loops are now introduced with the MIDI tick count-off, so there's enough time to get your hands back to the keyboard to play along. Thus you can follow along regardless of what section of the piece you're working on.
Full Motion Video: Professional piano instructor Vadim Ghin, M.A., guides you with over 50 full-motion videos demonstrating techniques. Many of the videos include split-screen displays with close-ups for a clearer perspective.
Animated Keyboard: Displays color-coded fingerings as the music plays. It allows you to see exactly how to play the song on a keyboard as you hear the music. Music tracking highlights the notes being played on the screen, making it simple to follow along.
Multitrack recorded audio: High-quality multitrack recorded audio is included for every song and exercise.
Variable-Speed MIDI: Slows down the audio to any tempo, while the Animated Keyboard shows song fingering as the music plays. You can play along and learn at the pace best suited to your skill level!
MIDI playback options let you select left or right hand only, or a tick metronome track to play along with.
Orchestral Accompaniment: Selected pieces include orchestral accompaniment and even a jazz band to play along with.
Interactive Feedback: For selected exercises, when using an electronic MIDI-compatible keyboard, you can get specific feedback on note and rhythm mistakes. Clicking on an individual feedback balloon brings up a keyboard showing you exactly what mistake was made and what should have been played. Also, an overall percentage score summarizes how well you did on the exercise.
Reviews and Ear Training: Interactive review and ear training screens help reinforce new concepts and develop your ear.
Digital Metronome: Allows you to set your own tempo and work on your speed, rhythm and timing. Provides both visual cue and/or audio tick. Full range of tempi, from largo to presto.
Digital Recorder: Record and play yourself back! This feature allows you to compare your recordings to the instructor's version, fine tune your skills and share your recordings with friends and family.
Over 50 Songs Including:
Ecossaise
-- Beethoven
Hungarian Rhapsody
-- Liszt
Swan Lake
-- Tchaikovsky
The Sorcerer's Apprentice
-- Dukas
Fourth Ballade
-- Chopin
St. Louis Blues
-- W. C. Handy
The Schoolhouse Blues
-- Irving Berlin
Third Piano Concerto
-- Rachmaninoff
Twenty-First Piano Concerto
-- Mozart
Jelly Roll Blues
-- "Jelly Roll" Morton
Same Day Music is an authorized dealer of
eMedia
products.