Same Day Music is an
authorized eMedia dealer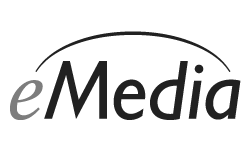 In eMedia My Guitar DVD, an animated character named Gary the Guitar leads kids through 60 lessons by Kevin Garry, PhD. Research has proven that children who play an instrument do better in school, make friends more easily, are more creative, learn self-discipline and gain self-confidence. My Guitar covers the basics such as tuning your guitar and learning chords, and moves on to reading music, playing songs, and much more. eMedia's Animated Fretboard shows you where to put your fingers as the live recorded audio plays. Special features such as our Automatic Tuner, Metronome, Chord Dictionary, and Digital Recorder are available as separate downloads to registered customers. eMedia My Guitar is the perfect way to introduce children to playing guitar.
Features
- By interacting with the playful characters and scenes, kids will have fun while learning music! The animated fretboard shows the correct fingerings as the music plays.
- Double-clicking on any chord or note will also show kids where to put their fingers.
- Choose from right-handed, left-handed, and mirror views.
- The lessons are easy to follow with eMedia's large-format videos, featuring split-screens and close-ups that guide kids through songs and playing techniques.
- Bonus Downloadable Guitar ToolKit
- Built-in interactive tuner
- The chord dictionary: displays over 250 chord charts.
- Kids can set their own tempo and get audio and/or visual cues for staying on beat.
- The digital recorder allows kids to play into the computer's built-in or external microphone, record their performance, and save it to the computer
Same Day Music is an authorized dealer of
eMedia
products.
System Requirements
Windows:
- Windows XP/Vista/Windows 7
- 128 MB of free RAM, CD-ROM
Macintosh:
- Mac OS X 10.4 or later
- 128 MB of free RAM, CD-ROM
Same Day Music is an authorized dealer of
eMedia
products.