Same Day Music is an
authorized eMedia dealer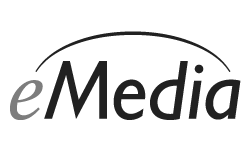 Now it's easy for kids ages 6 and up to learn how to play piano! An animated character named Pam the Piano guides kids through over 100 lessons by former Juilliard School of Music instructor Irma Irene Justicia, M.A. Games make learning fun, and kids will learn songs that they can share with their friends. Kids also have access to live-action video demonstrations of techniques from Irma Justicia. Songs and exercises are enhanced by live recorded audio, variable-speed MIDI keyboard tracks and colorful MIDI accompaniments. Interactive game screens help reinforce concepts and develop your child's ear. When used with an electronic MIDI keyboard, your child will get specific feedback on playing mistakes, including wrong notes and rhythms. Your child will learn how to play and learn a lot about music as well.
The eMedia My Piano Pack is an ideal affordable solution for any child who has thought about learning piano or keyboard. It's also great for kids. This bundle combines the acclaimed eMedia My Piano software with a robust, high quality, full-size, touch-sensitive, 49-key, MIDI keyboard that you play through your computer speakers. The specially-designed MIDI keyboard features pitch bend and modulation controllers, transpose buttons, MIDI out port, USB port and a sustain pedal input jack. Connect the keyboard to your PC or Macintosh computer's USB port using the included USB cable. The small footprint of the keyboard makes it ideal for use on your computer desk.
Your My Piano Pack includes:
- 49-key, touch-sensitive USB MIDI keyboard (4 octaves)
- USB cable
- eMedia My Piano CD-ROM (over 100 piano lessons)
Note: A power adapter is not necessary with this USB package because the keyboard is powered through USB cable.
Animated Keyboard
The animated keyboard shows color-coded fingerings as the music plays so kids can easily follow along. Double-clicking on any chord or note will also show them where to put their fingers.
Interactive Feedback
When used with a MIDI keyboard, kids get instant feedback on notes and rhythms they played wrong and find out what they should have played instead. There's also an overall score to show them how well they did on the song.
Full-motion videos
The lessons are easy to follow with the large-format videos, featuring split-screens and close-ups that guide kids through songs and playing techniques.
Interactive Games
Games help children learn chords and songs by reviewing what they learned in the lessons. By interacting with the playful characters and scenes, kids will have fun while learning music.
Metronome
Kids can set their own tempo and get audio and/or visual cues for staying on beat so they can play in time with the music.
Recorder
The digital recorder allows kids to play into the computer's built-in microphone (or an external one), record their performance, and save it to the computer. This handy tool lets them listen to what they played and share it with their family and friends.
Same Day Music is an authorized dealer of
eMedia
products.
Windows:
- Windows XP/Vista (32-bit only)/Windows 7
- 64 MB of free RAM
- PC sound card, CD-ROM
- Speakers or headphones
Macintosh:
- Mac OS X 10.2 or later (Intel OK)
- 64 MB of free RAM
- CD-ROM, Speakers or headphones
* Users of Windows XP must have Microsoft Service Pack 2 installed (or higher).
Same Day Music is an authorized dealer of
eMedia
products.