Same Day Music is an
authorized eMedia dealer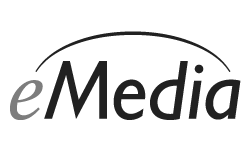 With My Voice software, you can replace the original singer on your favorite audio CDs. Now you can become the star! With My Voice there's no need to buy equipment or special CDs. My Voice hides the vocals on your audio CDs to help you create your own remixes, karaoke or recorded masterpieces. Using the Digital Studio you can add special effects to your final creation, and the Karaoke Maker lets you add karaoke lyrics to any song. When you're done, you can burn the finished result onto an audio CD, playable on your home stereo system -- or go mobile by saving it to your iPod. The My Voice software comes with a high-quality microphone, so you can get started right away!
Be The Singer, Become the Star!
My Voice is revolutionary software designed to remove the vocals from your audio CDs in real time. This technology is accurate for 80% of the audio CDs on the market today.* You get a recording studio at your fingertips!
Everything you need!
Studio effects, recorder, burner, ripper and more.
No need to buy special equipment or CDs.
* My Voice cannot remove vocals from live recordings and/or very old recordings.
Features
- Hide the lyrics on your favorite songs, creating a background track ready to have your vocals added. You can adapt any song to your voice and your singing style: transpose up or down one octave without changing the speed of the music. You can also change the tempo without changing the pitch of the music or even use these two features combined together!
- Record and mix your voice over the original soundtrack and create your own remixes.
- Add special effects in the digital studio such as reverb, flanger, chorus, echo, compressor and 10 band equalizer to give your final creation a more professional sound.
- Type the words into the on-screen Karaoke window, and sync them to the music!
- Burn your CD so you can listen to it on your home stereo, in your car or in your portable CD player -- or go mobile by saving it to your iPod!
- Includes a high-quality microphone -- right in the box!
Same Day Music is an authorized dealer of
eMedia
products.
Windows (only):
Windows 2000/XP/Vista/Windows 7
Pentium PIII 850Mhz or higher
128MB RAM minimum (depending on OS)
400MB hard drive space required for software and user manual
800x600 minimum monitor resolution
PC soundcard, CD-ROM
Same Day Music is an authorized dealer of
eMedia
products.