Same Day Music is an
authorized eMedia dealer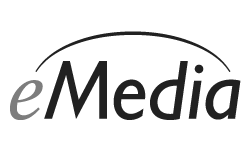 It's great rhythm chops that get you the gig. It's great rhythm chops that keeps you on stage at the jam. It's great rhythm chops that makes or breaks you as a player. Want big love and adoration from your local community of musicians? Stop shedding those blazing licks and supercilious fretboard acrobatics and sink your teeth into these eMedia 50 Chord Tricks You Must Know from Matt Brandt. Fair warning; be prepared for countless requests from fellow guitarists to "show me that!" From John Frusciante, Robben Ford, John Mayer and Eric Johnson to T-Bone Walker, The Beatles, Nile Rogers and Stevie Ray Vaughan; however diverse their styles and music may be, they all have one thing in common -- a solid foundation crafted from interesting chord applications and engaging rhythmic ideas. If you're battling the proverbial rut in the shed, or feeling a bit polarized at the local jam, or just plain tired of hearing yourself play the same old same old -- 50 Chord Tricks You Must Know is likely your key to pushing through to the other side.
About Matt Brandt:
Matt Brandt went to Berklee College in Boston, U.S.A. for a summer course. Meeting local pop composer/musician Jack Starkey and feeling at home in the competitive American music, he decided he wanted more. In 1991 he moved to Northern California, where he toured with local musicians and tried to establish himself as a working musician. Through some "misunderstandings" with the Immigration and Naturalisation Service he was forced to go back to the Netherlands, where he picked up his teaching practice. In that period he built himself a studio and started "No Can Do", his first rock-blues band.Guitar Lab's innovative learning systems employ a hands-on approach where students 'play' their way through the curriculum using learning tools such as PIP video, practice rhythm tracks, and interactive tab and notation, which allows the student to play along with the tab and notation, at any tempo, without change in pitch.
Includes Hands-On Learning Tools
- Text Lesson Guide
- Standard Notation
- Guitar Tab
- Power Tab Files
- Power Tab Software
- Practice Rhythm Tracks
- Bonus Material
- Secure PIN enclosed for quick and easy download of learning tools.
Same Day Music is an authorized dealer of
eMedia
products.