Same Day Music is an
authorized eMedia dealer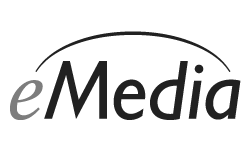 eMedia's 50 Blues Rhythms is much more than just 50 grooves you can call up at the jam. It's 40 different rhythmic and chord voicing approaches for the 12-bar blues that Corey demonstrates in the same key for continuity purposes. ALL of these 40 approaches can be transposed to all keys, and ALL can be combined to craft countless blues grooves that you can jam over, compose with, or use for accompaniment purposes in any blues setting. The last 10 examples illustrate how to combine various approaches from the previous 40 examples.
About Corey Congilio:
Corey Congilio has found a niche working with artists who bring him song fragments and ideas. Through assessing the artist's needs and influences, Corey is able to develop, compose, arrange and produce the music from the ground up while still preserving the artist's vision. A multi-instrumentalist, Corey often plays everything on an artist's demos including but not limited to banjo, mandolin, resophonic guitar, and bass. He also is a professionally trained vocalist and is able to provide harmony vocals for his clients. He also is a product specialist for Fishman Acoustic Amplification.Guitar Lab's innovative learning systems employ a hands-on approach where students 'play' their way through the curriculum using learning tools such as PIP video, practice rhythm tracks, and interactive tab and notation, which allows the student to play along with the tab and notation, at any tempo, without change in pitch.
Features:
- Hands-On Learning Tools
- Text Lesson Guide
- Standard Notation
- Guitar Tab
- Power Tab Files
- Power Tab Software
- Practice Rhythm Tracks
- Bonus Material
- Secure PIN enclosed for quick and easy download of learning tools.
Same Day Music is an authorized dealer of
eMedia
products.