Same Day Music is an
authorized Eminence dealer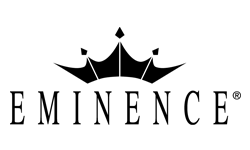 Eminence LF models are specially designed with extended Xmax to deliver more bass than standard models and provide 'a true woofer' for three-way applications. Performance optimized for high power bass in sound reinforcement systems, bass guitar combos, club music systems and stage monitors.
Features
- Kapton coil former for increased rigidity and thermal protection
- Polyamide-imide coated two-layer, 29ga., copper voice coil for improved power handling and durability
- Ferrite magnet
- Vented and extended core for increased power handling
- Premium pressed steel basket for maximum strength
- Paper cone
- Rolled cloth cone edge with deep corrugations for extended Xmax
- Solid composition paper dust cap
Same Day Music is an authorized dealer of
Eminence
products.
- Nominal basket diameter: 15 in., 381mm
- Impedance: 8 ohms
- Power rating: 500 Watts RMS
- Music Program: 1000 Watts
- Resonance: 39Hz
- Usable frequency range: 42Hz - 3.2kHz
- Magnet weight: 56oz.
- Gap height: 0.375 in., 9.52mm
- Voice coil diameter: 2.5 in., 63.5mm
Mounting Information
- Recommended enclosure volume: 92 - 150 liters
- Recommended enclosure volume (vented): 3.25 - 5.3 cu. ft.
- Overall diameter: 15.15 in., 384.8mm
- Baffle hole diameter: 13.77 in., 349.6mm
- Front sealing gasket: fitted as standard
- Rear sealing gasket: fitted as standard
- Mounting holes diameter: 0.25 in., 6.4mm
- Mounting holes B.C.D.: 14.56 in., 369.9mm
- Depth: 6.05 in., 153.6mm
- Shipping weight: 15.3lbs., 7 kg.
Thiele-Small Parameters
- Resonant frequency (fs): 39Hz
- Impedance (Re): 6.11 ohms
- Coil inductance (Le): 1.37mH
- Electromagnetic Q (Qes): 0.52
- Mechanical Q (Qms): 6.3
- Total Q (Qts): 0.48
- Compliance equivalent volume (Vas): 241.0 liters (8.51 cu. ft.)
- Peak diaphragm displacement volume (Vd): 419cc
- Mechanical compliance of suspension (Cms): 0.23mm/N
- BL product (BL): 14.6 T-M
- Diaphragm mass inc. airload (Mms): 75 grams
- Equiv. resistance of mechanical suspension loss (Rms): 3.19N*sec/M
- Efficiency bandwidth product (EBP): 75
- Voice coil overhang (Xmax): 4.8mm
- Surface area of cone (Sd): 856.3cm2
- Impedance at resonance (Zmax): 72 ohms
- Maximum mechanical limit (Xmech): 16.5mm
Important NoteWatts:
The guaranteed long term power rating throughout the usable frequency range of the speaker.
(Translation: the speaker will operate continuously at any frequency within the speakers specified frequency range when driven at this power. The "Watts" rating is similar to RMS, but is really more indicative of long term thermal capability.)
Music Program:
The speaker will safely and reliably handle the varying frequencies of musical content at this power rating. The "Music Program" rating is more indicative of what you can expect in the real world with the speaker operating within the appropriate enclosure reproducing music or vocal audio program.
Same Day Music is an authorized dealer of
Eminence
products.
Shipping Weights and Dimensions

Shipping Weight: 15 lbs
Shipping Dimensions: 16 x 16 x 8 in