Same Day Music is an
authorized Eminence dealer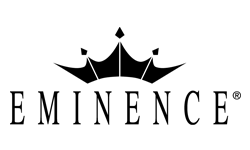 Producing a pure vintage tone, the Eminence Guitar Legend 125 Speaker is used in reissues of some of your favorites. Its nice, smooth response curve produces superb, classic blues tonal characteristics. It can be used as a replacement or upgrade.
Features:
- Kapton coil former
- Ferrite magnet
- Pressed steel basket
- Polyamide-imide coated copper voice coil
- Paper cone/paper cone edge
- Solid composition paper dust cap
The World's Favorite Guitar Speakers
Eminence Guitar Legends are specially designed for electric guitar amplifiers. Tuned by skilled ears, these hand-built specials feature a range of materials and ideas from over 30 years of experience.
Same Day Music is an authorized dealer of
Eminence
products.
- Impedance: 8 ohms
- Power Rating: 75W rms
- Usable bandwidth (Fs - 3db): 80Hz - 5kHz
- Average Sensitivity 1w @ 1m: 102 dB
- Magnet Weight: 34 oz.
- Voice Coil Diameter: 1.5", 38.1mm
Mounting Information
- Nominal Basket Diameter: 12.02", 305.2mm
- Baffle Hole Diameter 10.97", 278.6mm
- Mounting Holes Diameter: 0.25", 6.4mm
- Mounting Hole B.C.D.: 11.63", 295.3mm
- Depth: 4.9", 124mm
- Shipping Weight: 9.4 lbs., 4.3 kg
Thiele-Small Parameters
- Resonant Frequency: 94Hz
- Impedance (RE): 7.44 ohm
- Coil Inductance (Le): 0.70mH
- Electromagnetic Q (Qes): 1.18
- Mechanical Q (Qms): 6.15
- Total Q (Qts): 0.99
- Compliance Equivalent Volume (Vas): 32.5 liters/1.15 cu. ft.
- Peak Diaphragm Displacement Volume (Vd): 24cc
- Mechanical Compliance of suspension (Cms): 0.09mm/N
- BL Product (BL): 10.9 T-M
- Diaphragm Mass inc. Airload (Mms): 32 grams
- Equiv. Resistance of mechanical suspension loss (Rms): 3.07N*sec/M
- Efficiency Bandwidth Product (EBP): 79
- Voice Coil Overhang (Xmax): 0.5mm
- Surface Area of Cone (Sd): 506.7cm2
- Impedance at Resonance (Zmax): 46 ohm
Same Day Music is an authorized dealer of
Eminence
products.
Shipping Weights and Dimensions

Shipping Weight: 10 lbs
Shipping Dimensions: 18 x 17 x 7 in