Same Day Music is an
authorized Epifani dealer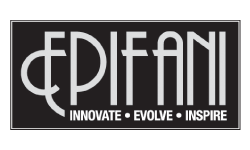 The Epifani UL501 is a small bass head that sacrifices nothing in the pursuit of bass tone. And it is the same with the sound of the UL amplifiers -- precise, intoxicatingly powerful, and 'there' like you've never felt before. Sure, it's your bass, only louder, but it is taken to the next degree. It jumps at your touch, almost as fast as you put finger to string. Power, precision, clarity and impact, from low 'B' to triple high 'C's. Its ultra-fast, ultra-transparent sound makes the UL501 amp the first ultra light bass amp to proudly wear the Epifani badge. Whether you play bass guitar, fretless, or Double Bass, this is the mini amp that can truly cover every gig.
The Range
The award-winning UL amplifiers combine a studio quality preamp with an audiophile grade power amp to deliver power, precision, and transparency that is a bass benchmark the world over.
The Technology
The UL501 is a remarkably small yet powerful amplifier designed for the player who demands quality, power, and portability. The UL501 features the same studio quality clarity of the UL series preamps and the power and precision necessary to drive multiple stacks of speakers with authority. The UL501 is a hybrid amp with a Class-AB power amp and a Switch-Mode Power Supply generating a clean 850W RMS that makes it one of the most powerful and full-sounding, yet lightest and portable amps on the market today. For people who travel, they've added a PFC "Power factor control" a self adjusting input voltage for a worldwide operation.
Same Day Music is an authorized dealer of
Epifani
products.
Power Output:
- Class A/B
- 850 watts RMS @ 4 Ohms
- Amp Response: 20hz - 25Hz
- S/N RATIO: 90 dB
Mains Supply:
- Switching Power Supply
- PFC (Power Factor Control)
Voltage:
- Automatic Voltage Selection
- 100-240V 50/60 Hz
Power Consumption:
- 1200W @ Full Power
Connectors:
- INPUT - 1/4" TS Phone Jack
- -Passive 470k Ohms
- -Active 200k Ohms
- SEND - 220k Ohms
- RETURN - 50k Ohms
- TUNER OUT
- FOOTSWITCH - 1/4" TRS
- DIRECT OUT - Low impedance XLR
- SPEAKERS - Combo Speakon
Tone Controls:
- Bass - Shelving + 22dB @ 40 Hz
- Mid - Peak + 17dB @ 550 Hz
- Treble - Shelving + 22dB @ 3 Hz/ 6 Switchable
- MID CUT - -8 dB @ 800 Hz
Cooling:
- Variable Speed Fan
Dimensions:
- 3.5"h x 12.5"w x 10"d
- Weight: 7.5 lbs
Same Day Music is an authorized dealer of
Epifani
products.