Same Day Music is an
authorized Evans dealer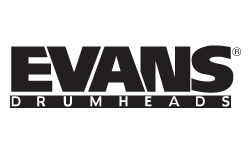 The Evans EMAD (Externally Mounted Adjustable Damping) Bass Batter Head is now joined by a member of the internationally award-winning family: the EMAD Resonant Bass Head.
Almost immediately after they introduced the EMAD batter head, Evans was flooded with requests for an EMAD resonant. With the development of the EMAD resonant, drummers now have another simple, quick way to change their drumhead sound without having to remove the head. Like the batter, the EMAD resonant allows the player to toggle between three different levels of attack and sustain.
The EMAD Resonant was brought to Evans by drummer/designer Bob Gatzen, and refined by the Evans Research and Development team. It utilizes a 7mil head with a fixed internal ring. The head features two interchangeable foam rings that dampen overtones around the edge of the 5 in. offset port, focusing the pitch and enhancing attack. The port is positioned higher up on the head for easier microphone placement.
The firmer of the two foam rings (darker color) delivers enhanced attack, controlled sustain, and focused low-end for a quick, articulate thump. The softer foam ring (lighter color) allows for a more round tone and moderately controlled sustain especially useful for smaller drums and high tuning. Together, the EMAD batter and resonant heads complete a system that gives drummers the adjustability, low-end, attack, and focus they dream about.
Same Day Music is an authorized dealer of
Evans
products.