Same Day Music is an
authorized Garritan dealer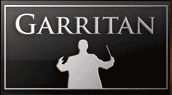 Garritan Instant Orchestra, your instant orchestra-just add imagination! Orchestration has never been so easy! Garritan Instant Orchestra is a must-have library that offers an easy way to make super-quick orchestrations in minutes-from start to finish. Includes amazing orchestral instrument combinations and effects, bombastic brass, ultra-lush strings, low-octave rumblings, spooky wind textures, mega-hits, wild overlays, slivery choirs, light glissy harps, ethereal textures, chaotic whirls, rises, glissandi, chord clusters, and much more.
Intuitive and easy to use
The premise of Instant Orchestra is to make orchestrating easy. Instead of having to create scores on staff at a time, nearly any musician can complete full, rich orchestrations with just a few staves or tracks of music. The library does not assume any prior knowledge of scoring music or orchestration. It also eliminates setup hassles. You can go from small to massive orchestrations very easily, with little loading and instant results.
Everything is orchestrated for you and ready to go
Garritan Instant Orchestra carefully mixes orchestral instruments from various instrument families-playing in unison, in octaves, and tutti. These orchestral combinations range from light, delicate sounds to big, epic patches, all of which can fill out any orchestral gaps in your music. Immediacy drives the entire product. Also included are many special orchestral effects that you often hear in movies. These effects consist of glissandos, rips, clusters, harmonics, instruments playing in non-traditional ways, and a variety of techniques. These types of effects are vital to film and game composers.
ARIA instrument player included
The entire Garritan Instant Orchestra library is integrated into the ARIA Player and there is no need to purchase a separate sample player. Garritan Instant Orchestra also features the Conexant Endless Wave technology for hard disk streaming of multiple combinations for large orchestrations. Supports all popular formats, Mac and PC, as a standalone program or as a plugin (VST, RTAS, and OS X Audio Units), and works with supported notation programs such as Finale.
Same Day Music is an authorized dealer of
Garritan
products.
System Requirements
- PC: Windows 7, Vista or XP.
- Macintosh: OS 10.5 or higher.
- 3 GB of free hard disk space.
- Core 2 Duo CP2 or better recommended.
- Internet connection required for download; DVD drive required for boxed installation.
- Hard drive speed of at least 7200 RPM.
- A professional sound card compatible with ASIO2 (PC) or Core Audio (Mac).
- A MIDI or USB interface may be required if using an electronic keyboard. Many keyboards now use USB.
- To play complex orchestrations, we recommend 2 GB of RAM or more.
- Internet connection for updates and online registration.
Same Day Music is an authorized dealer of
Garritan
products.