Same Day Music is an
authorized Garritan dealer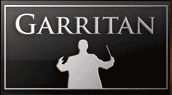 The Garritan Personal Orchestra 4 is a complete orchestra at your fingertips. Garritan Personal Orchestra is state-of-the-art software that reproduces sounds of the musical instruments in a symphony orchestra directly from your computer. The award-winning Personal Orchestra has set the standard for orchestral sample libraries.
A high-quality orchestral instrument collection
More than 150 orchestral instruments-lush strings, intimate woodwinds, joyous brass, powerful percussion, a Steinway virtual concert piano, Stradivari violin, a glorious concert organ, heavenly harps, select Program SAM brass, and more.
ARIA instrument player included
The entire orchestral collection is integrated with the ARIA Instrument Player and works as a virtual instrument. No need to purchase a separate sampler.
Ensemble building
Garritan Personal Orchestra provides multiple individual instruments from which you can build your own ensembles and orchestras. Construct solos, duos, trios, quartets, chamber groups, sections, or a full symphony orchestra -- the way you want.
Intuitive controls
Garritan Personal Orchestra allows you to express your musical ideas quickly and easily. Just load your instruments and play. Standardized controls allow you to become familiar with the library quickly and master all the instruments.
Universal format
Garritan Personal Orchestra supports all popular formats, Mac and PC, as a standalone program or as a plugin (VST, RTAS, and OS X Audio Units), works with supported notation programs, and works in 64-bit operating systems.
Same Day Music is an authorized dealer of
Garritan
products.
System requirements:
- 3.5 GB of free hard disk space.
- DVD drive required for installation.
- PC: Windows(R) 7, Vista(R), or XP(R), 1.8 GHz Core 2 Duo, 2.8 GHz CPU Pentium 4 (single core), or better.
- Macintosh(R): OS 10.3 or higher, a 1.8 GHz Core 2 Duo Mac Intel or better.
- Hard drive speed of at least 7200 RPM.
- A sound card compatible with ASIO, DirectSound, Standard DirectSound, MME, or ASIO drivers.
- A MIDI or USB interface may be required if using an electronic keyboard. An 88-key full-size keyboard with Mod Wheel and assignable controllers is highly recommended.
- To play an entire orchestra, we recommend 2 GB of RAM or more.
Instrument List:
- Strings: 3 Solo Strings (Including Stradivari), 9 Violin Players for Ensembles, 1st Violin Section (12 Players), 2nd Violin Section (10 Players), Solo Viola, 3 Viola Players for Ensembles, Viola Section (10 Players), 3 Solo Cellos, 9 Cello Players for Ensembles, Cello Section (8 Players), Solo Double Bass, 3 Bass Players for Ensembles, Double Bass Section (7 Players)
- Brass: Trumpet Section from Project SAM, 3 Solo Trumpets, 9 Trumpet Players for Ensembles, 2 Piccolo Trumpets, Horn Section from Project SAM, 3 Solo French Horns, 9 Horn Players for Ensembles, Trombone Section from Project SAM, 2 Solo Tenor Trombones, 6 Trombone Players for Ensembles, 2 Bass Trombones, 3 Solo Tubas, Brass Overlays, Contrabass Tuba.
- Woodwinds: Piccolo, Solo Flute, 3 Flute Players for Ensembles, Alto Flute and Bass Flute, 3 Solo Oboes, 3 Oboe Players for Ensembles, 2 Solo English Horns, Solo Bb Clarinet, 3 Clarinet Players for Ensembles, Eb Clarinet & Bass Clarinet, Contrabass Clarinet, 2 Solo Bassoons, 3 Bassoon Players for Ensembles, Contrabassoon
- Percussion: Timpani, Marimbas & Xylophone, Vibraphone & Glockenspiel, Tubular Bells, Bass Drum & Snare Drum, Orchestral Cymbals, Gong & Tam-Tam, Crotales Mark Tree & Triangles, Hand Bells & Wind Machine, Assorted Percussion Toys
- Keyboards, Harps & Choir: Steinway Grand Piano, Concert Pipe Organ, Harpsichord, Full Choir (Lite), 2 Concert Harps, Celeste and more
Same Day Music is an authorized dealer of
Garritan
products.